You easily could overlook the once-abandoned, two-story building tucked away on an industrial stretch off 22nd Avenue N in St. Petersburg. Beyond the chain-link face running alongside it, motorists whoosh past on I-275, oblivious to the renovated historic, red-brick structure. Dating back nearly 100 years, it's soon to be the home of a unique, seafaring educational innovation that helps troubled teens chart new courses for their lives.
At the heart of things are two former college flag-football pals from Sarasota who shared a bold vision to help at-risk children, the yacht they procured from halfway around the world, and a program called SailFuture that today provides hope and opportunities for struggling foster-care youths.
"A lot of our kids have been in many, many different homes," says Hunter Thompson, who, with co-founder Michael Long, brought SailFuture to life. "The public education system can work really well for kids who stay in one place, but when you're moving around so much, you can fall through the cracks," he continues.
"None of our kids really fit that public-school mold. So that's when we made a decision to provide our own educational experience for our kids and take on that responsibility."
Thompson and Long have done precisely that – and much more – starting with the launch of SailFuture in 2013 as a sailing-based mentoring program. Its goal was as basic and aspirational as elevating the graduation rate for high-risk students at Sarasota's Booker High School.
A year later, they began staging week-long sailing expeditions for felony youth on juvenile probation. By 2016, they had opened a waterfront house at the southern end of Pinellas County to provide round-the-clock residential care to foster-system teens.
In 2017, they opened an accredited private school to serve the youth in their residential program. Their carefully evolving plan expanded to a Lakewood Estates location in 2020, with classes held in houses and hands-on learning offered in labs in adjoining garages.

Now, a new era is about to begin with the opening this fall of SailFuture Academy. It's taking shape inside the old Norwood School, where walls have been freshly painted with the academy's colors of navy and gray, rooms have been gutted and reimagined, and hallway columns have been outfitted with heavy nautical ropes.
But the one-time Pinellas County elementary school turned alternative school, shuttered since 2009, is so much more than what meets the eye as construction on a dream continues full speed ahead.
On one level, the academy embodies its mission statement as "a co-ed, tuition-free entrepreneurship high school that teaches students how to think critically and solve real-world problems."
The first cohort will comprise 50-plus students in ninth through 12th grades. The private, nonprofit vocational school is designed for low-income families and at-risk youth, including many who will attend on Florida Tax Credit Scholarships administered by Step Up For Students, which hosts this blog.
SailFuture Academy will feature more than team building, confidence-enhancing sailing trips. When on campus, students will be immersed in a rigorous, project-based curriculum with a practical application to maritime, construction and culinary arts. The goal: to open doors to career and post-secondary learning opportunities for students who have disengaged from traditional high-school education.
The hands-on curriculum will include interdisciplinary math, science, technology and business course work. Along the way, students will gain essential life skills such as how to lease an apartment, purchase a car and open a bank account, preparing them for success in potential careers as business owners and operators.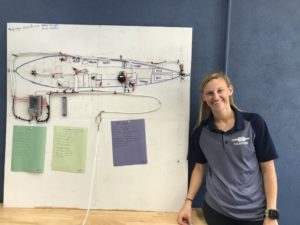 At the helm of SailFuture serving as head of school will be Lindsay Danielson Rapuano, a graduate of Clearwater Central Catholic High School who earned an English degree while playing Division I soccer at Columbia University and went on to earn a master's degree at Columbia's prestigious Teachers College.
Rapuano gained hands-on experience in the field by teaching English in the challenging environment of a South Bronx middle school. She helped start a non-profit called Level The Field, pairing inner-city students with Columbia student athletes in a mentorship program. She eventually moved back to Florida, working at a private day school in Miami before a friend introduced her to Long, who led her to the SailFuture family.
"We want this to feel more like the professional world and less like a school," Rapuano explains, standing inside a finished classroom outfitted with modern, moveable hardwood desk units and a big-screen TV for student presentations. "Our goal is to acclimate them to the real world, so you can enter a space and understand how to manage it. By replicating what professional spaces are like, we hope to break down that initial barrier."
Students will be taught problem-solving skills that will allow them to excel in any number of disciplines. What a student learns in an English class can help in a business class, Rapuano says. They also will learn from full-day experiences in construction, maritime and culinary labs twice a week.
"In the construction lab, they'll be taught different ways tools are used, how to make cuts appropriately, integrate math, and communicate with a partner," she says. "In the maritime lab, they'll be learning not just about sailboats, but how you communicate and build up trust with partners. Sailing is the great unknown, and both spoken and unspoken communication is vital."
Bruce Martin, who has been a student in the program for several years, is looking forward to continuing his SailFuture experience as a senior in the new building.
"I have 8,000 nautical miles and about 180 days at sea so far, sailing from St. Pete to places like Puerto Rico, Texas and Maine, said Martin, 17. "It can be hard and stressful, but you learn to overcome that through teamwork and doing all the different roles on the boat. It really builds your confidence and helps you grow."
The students, many of whom have faced considerable hurdles in life, all work on scale models of the school's 65-foot McGregor Yacht on a long sheet of plywood. They learn the intricacies of its wiring, the various components, and the electrical system. Though the program is multifaceted, the yacht is SailFuture's life blood and what truly set the school in motion.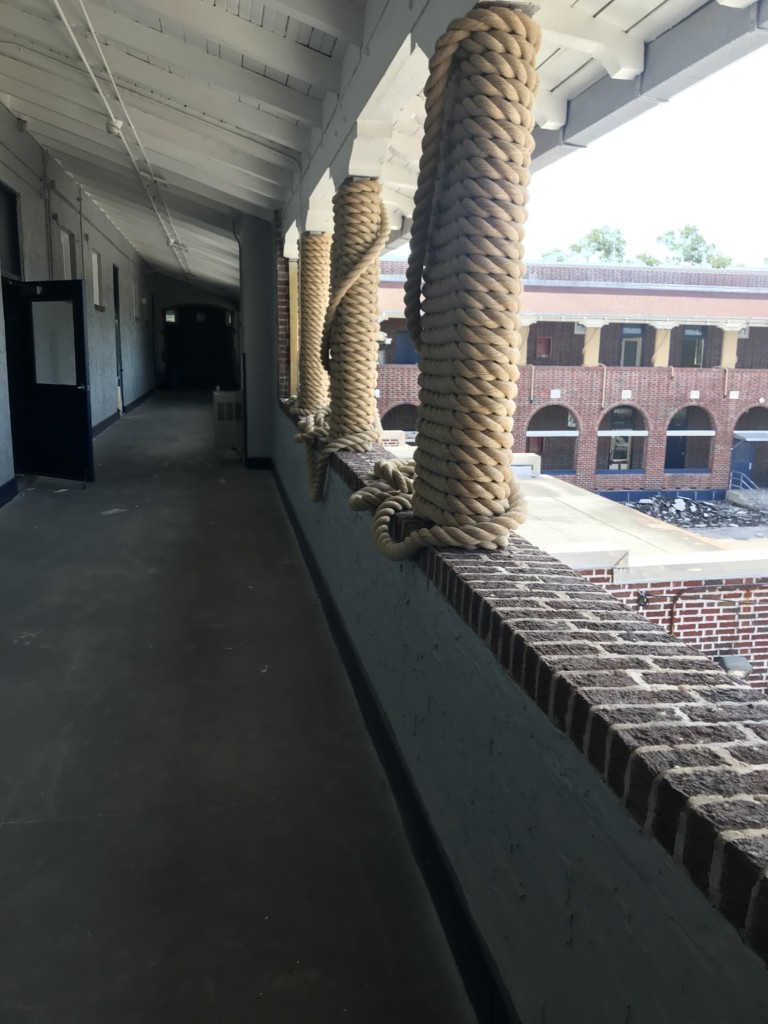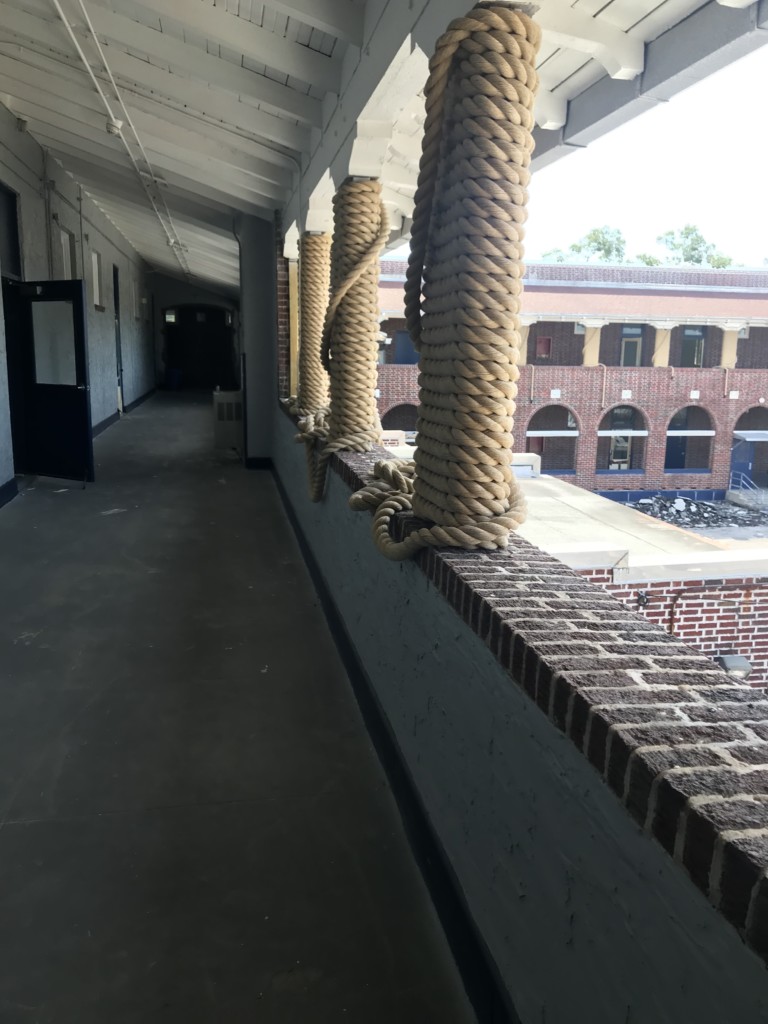 Fittingly named Defy the Odds, the McGregor had quite a journey en route to anchoring the program and calming turbulent waters in many young lives.
There never would have been a program had Long and Thompson not met as Sarasota collegians. Long was focused on a liberal arts education at New College and Thompson was studying animation at the Ringling School of Art and Design. But it was as captains of their respective flag football teams that the two met and became friends.
Thompson had never felt at home in the public school system and took time off after graduating to do a year of service work in Botswana, hoping to find his calling through travel and experiential learning. "Doing work that was really meaningful helped frame what my values were," he says.
Returning home, he enrolled at Ringling and met Long, who had created an after-school program while at New College for at-risk high school students, pairing them with college-age mentors and teaching them all to sail on collegiate "420" dinghies, measuring about 14 feet in length.
Through that learning experience at sea, strong bonds were formed between students and mentors, making it easier for mentors to gain trust and help the students in school and in life. After graduating, Long went to work in politics on Capitol Hill in Washington, D.C., while Thompson moved to Atlanta to work in advertising and design.
In time, Long left his job and returned to Florida to build a business plan for creating SailFuture to help juvenile offenders. Thompson, wanting to return to pursue a more personally rewarding path, soon joined him in the venture. After-school sails of several hours soon became week-long trips, requiring larger boats.
In 2015, Long met a donor who wanted to gift the yacht, appraised at more than $1 million, to the budding program. There was only one hitch: It was anchored 6,200 miles away in Turkey.
Long flew there, determined that the boat would be perfect for SailFuture. Then he and Thompson coordinated the daunting effort of sailing the yacht 20,000 nautical miles to Florida – with assistance from 120 program supporters. They brought it from Turkey to Greece, Croatia, Italy, Spain and Morocco, and then took it across the Atlantic.
The crew for one of the final legs of the voyage, from the Canary Islands to Morocco, was especially significant in SailFuture's evolution. It was comprised of high-risk juvenile offenders from across the United States whom Long and Thompson had been training as their part of a "Sail for Justice" campaign. Those teens remained briefly in Morocco to do service projects, then were flown home to the U.S. as the McGregor made its way to Florida.
The youths had all benefitted from the life-changing experience, but Long and Thompson learned that many fell back into negative patterns when they returned to their home cities. "That's where we pivoted," Thompson says. "We realized we needed to provide a community, a home, and more support systems over a longer period of time to make a lasting change and impact."
Soon after, SailFuture moved from working with Department of Juvenile Justice teens into the foster-care system, creating a residence program for teenage males. Long and Thompson found a waterfront home to moor their yacht in Pinellas Point and landed multiple grants to build a large dock.
In 2018, they began launching long-distance sailing adventures for their foster-care teens to Mexico, the Bahamas, the Dominican Republic and Puerto Rico, and offered ambitious stateside excursions from Florida to Maine.
Today, the McGregor is the flagship of multiple educational and social programs under the Sail Future umbrella. It also is the heart of the long-forgotten, red-brick school, which is springing back to life to help once-lost teens navigate their way into promising, open waters.