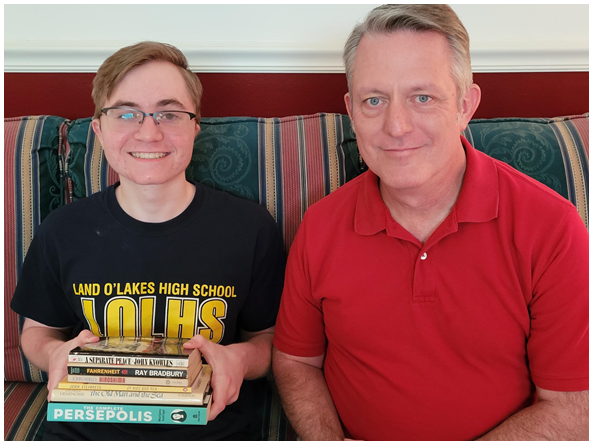 Editor's note: This commentary from Mark Wood, a professional writer and editor with an educator's heart, is redefinED's salute to all dads as Father's Day approaches. Wood, who respects teachers, values learning and makes sure his son does all his homework, is married to Lisa Buie, senior writer for redefinED.
It was hard for me to imagine that I could possibly spend more time with my son, Dylan.
In early 2020, I was picking him up every day from school. In the car, we would perform a daily debrief through which I would hear about every class, every assignment and every homework task. After sharing dinner, I would ferry him to his Boy Scout meetings every Tuesday. Every Monday, Thursday and Friday I watched karate practice.
On weekends, we would share movie nights with mom, attend church, pursue our hobbies or compete in a karate tournament.
I always considered myself one of the lucky dads. My job as a writer and editor afforded me maximum flexibility. Dylan's sick at school? No problem, I got this. Scouting campout starting Friday? I'll just work remotely. Even when Dylan was a baby, I negotiated a work-at-home arrangement to keep him out of day care as long as possible. A congenital partial hearing loss was my motivator.
I spied as he pinched his first cereal puff in his tiny fingers and deposited it into his mouth. I watched as he took his first wobbly step.
Last year, when the COVID-19 pandemic struck, I learned that I only had begun to spend time with Dylan.
As eighth grade continued into the fourth quarter, all students in Dylan's school district were required to take their classes online. I worked at home and kept watch. When the number of cases continued to spike, my wife, Lisa, and I decided that we would choose our district's option for Dylan to learn remotely via Zoom classes. In this arrangement, his district would let students log into in-person classes via the upstart computer platform. In some cases, masked teachers would instruct students sitting at desks and peering through screens. Some teachers had all-Zoom classes and could doff their face coverings.
As Dylan now was a ninth-grader in a rigorous pre-IB magnet program, we worried about academic struggles and logistical problems. So I appointed myself principal of our little home-based school. Order would be maintained. Discipline assured. And time with my son multiplied exponentially.
Now the first year of high school is behind us. Dylan excelled, earning four A's and two B's in a program known for its demands.
Evidence indicates that a legion of fathers have joined me in increasing their time with their kids and taking a more active role in their education.
A new poll conducted by Pearson and its online school, Connections Academy, shows that 89% of fathers report that being involved in their children's education has helped them grow closer to them. A similar survey that the company conducted in March showed that 76% of parents said supporting their children's learning at home was gratifying. I suspect many dads, like me, also were required to work at home for an extended time, putting them close by as they and their kids navigated Zoom meetings and enjoyed casual environs.
Some of the results confirm what I've known since my son entered preschool in 2008: Taking an active role in your child's education will draw you closer to them and help you understand them. It also will make you part of your child's "education team." Not everyone is a teacher, but I believe everyone, particularly parents, can be "educators."
Results show that 90% of fathers surveyed say they understand their child better. Slightly fewer (89%) said that being part of the learning experience helped them grow closer to their child.
More than eight out of 10 dads agreed that their children adapted to online learning well and that it helped boost their child's confidence and time management skills.
For many, including our family, pandemic-related distance learning choices will not be offered in the 2021-2022 school year. Frankly, our son is eager to get back to in-person learning to fully experience the social advantages that high school offers. We don't blame him.
With this return to normal, nearly three out of four fathers surveyed worry that they won't be able to maintain the same level of involvement in their child's education. I do not necessarily share their concern.
Sure, I won't be able to pop my head in my son's bedroom between classes for a quick update, but you can rest assured that I'll stay involved. I have served on school advisory councils during Dylan's elementary, middle and now high school years. I'll continue to quiz him in the car about classes and homework on the way to after-school activities.
Meaningful involvement will take a little more effort this fall, but I hope dads — and moms — will remember the fulfillment they got by having more access to their children's education this past year.
Parents can continue that access and influence by talking daily with their children and keeping communication lines open with teachers and administrators.
School may be a building, but education is an endeavor. And all of us are called to play a crucial part in our child's learning. I hope all parents will join me in being educators.