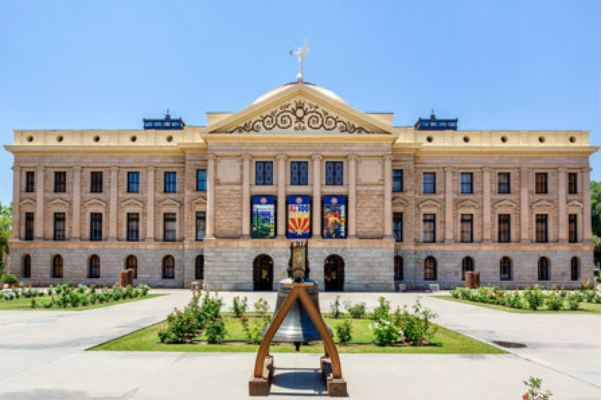 A budget adopted last week by lawmakers in Arizona includes two key provisions geared toward expanding access to schools of choice for the state's K-12 students.
A $10 million allocation will establish transportation innovation grants that school districts, charter schools, and other community groups can use to help students attend a school that formerly may have been unavailable to them due to a lack of transportation options. In addition to the grants, funding can be used to modernize existing transportation systems.
The budget also makes the school district open enrollment system more transparent.
Both provisions were goals established by education advocates and Arizona Gov. Doug Ducy at the start of the legislative session. As part of his administration's "Arizona Resilient" policy statements, Ducey urged legislators to remove one of the greatest barriers to accessing school choice, pointing out that "a choice is only a choice if you can get there, and unfortunately, those with the greatest hurdles to getting there are in our low-income neighborhoods."
The transportation plan earned bipartisan support before it became part of the overall budget package and garnered the attention of parent advocates who testified to the House Ways and Means Committee about challenges they face under the current school transportation system.
In a column that appeared in the Arizona Capitol Times, Querida Walker, a parent of five, noted that her appearance before the committee, rather than serving as an opportunity for her to lead the way to new programs and solutions to help families, resulted in criticism "by individuals and policymakers who are content with maintaining the status quo and keeping kids trapped in failing schools."
Arizona's current open enrollment policy, which has existed in Arizona for decades, allows students to attend public schools other than the campus for which they are zoned based on their address. But education choice advocates have charged that some districts discourage the use of open enrollment school choice by shielding information about enrollment windows or by creating opaque paperwork requirements.
Ducey pledged to end what he called exclusionary policies such as unreasonably short enrollment windows that he said cause hardships for parents.
"The way we do open enrollment at school districts across the state is overdue for reform," Ducey said. "It's time to make it truly open for all."
Emily Anne Gullickson, president of Great Leaders, Strong Schools, a group that advocates for increasing students' access to high-quality schools, praised the measures as a means of ensuring all families will have equitable access to education choice.
"With the passage of this budget, Arizona is making it clear that families choose public schools they wish to attend," Gullickson said. "Public schools no longer get to pick the students they serve."