Before Valeria Gurr arrived in the United States to attend graduate school, the native Chilean had no idea a school choice movement existed. What she did know was that she hated school as a child growing up in a tiny town in southern part of the country.
The daughter of a single mom who didn't finish high school, Gurr said she was "passed from grade to grade," enduring bullying along the way and fearing she was destined for a future like her mother's.
Her mother tried to put her in private school but couldn't afford it. Gurr's self-esteem hit rock bottom, and she grew up blaming herself for "not being smart." Despite those challenges, she refused to give up. She studied diligently and hoped it would lead to a better life someday.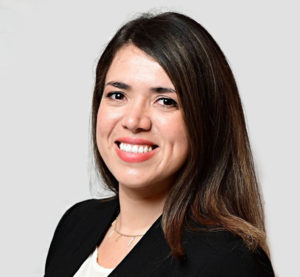 "The public schools (in my hometown) are horrific," recalled Gurr, who recently became director of external relations for the American Federation for Children, a national nonprofit organization that supports education choice. "The people who have money can send their kids to private schools. Charters are hard to get in. When I graduated, I had to spend a year preparing for my SATs, and I realized that I wasn't learning math like I wanted to or grammar like I wanted to."
After graduating from Duoc UC of Pontifical Catholic University of Chile with a degree in public relations and marketing, the then-24-year-old moved to the United States to attend graduate school at the University of Nevada Las Vegas, where she wrote her thesis on the role the newspaper, El Mercurio, played during the Chilean coup of 1973 and the transition to democracy. That analysis piqued her interest in policy and public affairs.
Her first job out of school: digital and social media specialist for the Clark County Education Association, a local affiliate of the Nevada State Education Association, which her current organization is often at odds with over education choice issues.
"I had no idea what a teachers' union was," she recalled. "It was an opportunity for me to learn and have professional experience in the United States. I needed a job and needed to do something immediately."
Gurr, who came in "really excited about helping the state of Nevada" left less than two years later.
"I was burned out. We did a lot of things fighting for taxes or more money, but in the end, it never translated," she said. "It never really fixed anything."
She went on to become program coordinator and later manager at Nevada Institute for Children's Research and Policy, where she was responsible for training parents and the community in preventing child maltreatment. She liked that she was able to focus on the welfare of children, something that was not the primary emphasis at the teachers' union.
When she visited the district schools and saw them so packed that kids were being rushed through breakfast and sent to classes with as many as 50 students, she experienced an awakening.
"I realized then that I lived in a bubble," she said.
About that time, a friend who worked the American Federation for Children asked her to volunteer at a rally for education savings accounts.
"I had no idea what an ESA was," Gurr said. "She had to explain it to me."
The bill passed, but its funding methods were challenged in court. By the time the way was cleared to craft a new bill, Democrats had gained control  in both legislative chambers.
(To learn more about the ESA initiative in Nevada, listen to a podcast with Nevada state Sen. Heidi Gansert.
Gurr's job that day was to basically help with the camera. But the experience inspired her.
"I started seeing parents who were really angry. There were hundreds of them," she said. "I thought, 'Why is this? What's going on?' I realized then that the media didn't represent the voices of these families."
Gurr continued to volunteer, and when her friend moved to Florida in 2017, the American Federation for Children tapped her to be its state director in Nevada. Gurr became a fierce advocate for education choice in the Silver State, organizing parents and writing opinion pieces in the state's news outlets in which she held nothing back.
"As the state director for the Nevada School Choice Coalition, I have grown extraordinarily frustrated with the public school system as it continues to fail the communities that need it the most," she wrote in a piece for the The Nevada Independent as the 2021 legislation session began. "I want lawmakers to know that the pandemic has opened parents' eyes, and now, more than ever, they want school choice. Last session, lawmakers played games with 2,300 families. As a result, hundreds lost their scholarships."
The reference was to 2019, when lawmakers made cuts to the state's Opportunity Scholarship Program by diverting scholarship tax credits to the state budget, which translated into hundreds of families losing their scholarships. They also closed the program to new students.
In the 2021 session — Nevada sessions are biennial — lawmakers passed a mining tax in which Republicans were able to carve out money for the scholarship program, expanding it to $22.8 million. An alliance with charter school organizations also resulted in the inclusion of $3.8 million to hold a dozen charter schools harmless from funding drops, along with a one-time federal allocation of $15 million for Title 1 charter schools.
"I feel it in my bones when people tell me about school choice," said Gurr, who has a 4-year-old son. "People say they want their son or daughter to feel safe, to get one-on-one attention. They want their kids to be happy."
She said parents tell her that their states "keep talking about getting it done but never get it done."
Now she will fight for them, too. Just like she did for Nevada.