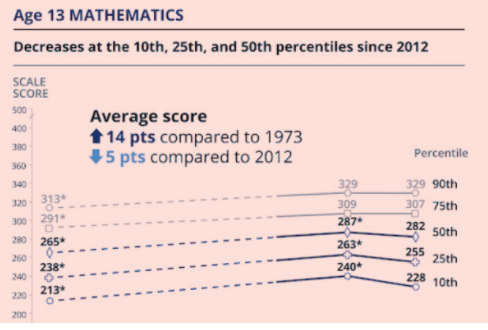 Editor's note: This article on this week's release of NAEP scores appeared Thursday on The 74.
Thirteen-year-olds saw unprecedented declines in both reading and math between 2012 and 2020, according to scores released this morning from the National Assessment of Educational Progress (NAEP).
Consistent with several years of previous data, the results point to a clear and widening cleavage between America's highest- and lowest-performing students and raise urgent questions about how to reverse prolonged academic stagnation.
The scores offer more discouraging evidence from NAEP, often referred to as "the Nation's Report Card." Various iterations of the exam, each tracking different subjects and age groups over several years, have now shown flat or falling numbers.
The latest release comes from NAEP's 2020 assessment of long-term trends, which was administered by the National Center for Education Statistics to nine- and 13-year-olds before COVID-19 first shuttered schools last spring. In a Wednesday media call, NCES Commissioner Peggy Carr told reporters that 13-year-olds had never before seen declines on the assessment, and the results were so startling that she had her staff double-check the results.
"I asked them to go back and check because I wanted to be sure," Carr recalled. "I've been reporting these results for…decades, and I've never reported a decline like this."
The eight-year gap between 2020's exam and its predecessor, in 2012, is the longest interval that has ever passed between successive rounds of the long-term trend assessment; a round that was originally scheduled for 2016 was nixed for budgetary reasons. Given the length of time between exams and the general trend of increasing scores over multiple decades, observers could have expected to see at least some upward movement.
To continue reading, click here.