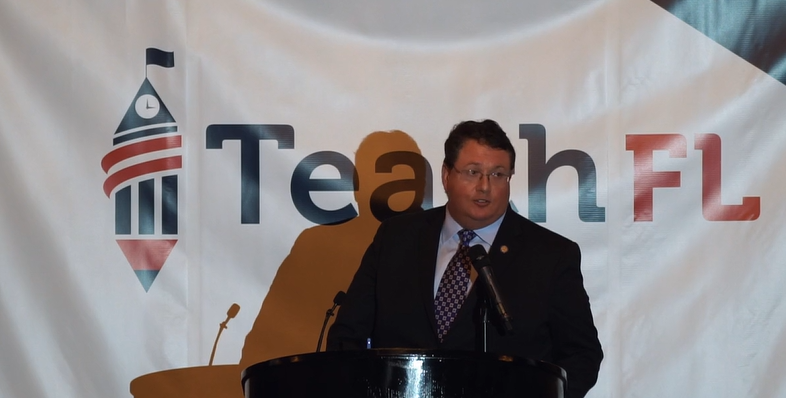 More than 600 people joined Teach Florida's board and staff for the organization's annual legislative breakfast this week at the Signature Grand in Davie, Florida.
Attendees included state legislators, elected local officials and members of the Jewish day school communities of Miami-Dade, Broward and Palm Beach counties. The focus of the event, which began in 2017, is to celebrate the organization's legislative victories in securing government funding for families sending their children to Jewish day schools.
To see a video recap of the event, click here.
Speakers included Allan Jacob, a South Florida physician and chairman of Teach Florida; Daniel Aqua, Teach Florida's executive director; state Rep. Randy Fine, R-Palm Bay; and Florida Senate President Wilton Simpson, R-Spring Hill; as well as Carol Lasek, a local lay leader, and Rabbi Elie Estrin, a chaplain in the Air Force Reserve and parent of a Florida choice scholarship recipient.
During the event, the organization named Fine its Legislator of the Year and gave Simpson its School Choice Champion Award. Fine sponsored HB 7045, the largest expansion of education choice in the nation. Simpson was a strong supporter of the bill, which the Senate ultimately approved, and Gov. Ron DeSantis signed into law this past spring.
"By fixing our education system, by putting parents in charge, by getting bureaucrats out of the way, we're not only going to solve the problem of opportunity for our children, but we're also going to solve the problem of crime and other problems that exist in our society," Simpson said.
Fine pointed out that thanks to the expansion, 50% of students attending Jewish schools are receiving state scholarships.
Estrin shared the story of his son, Nissi, who was born with life-threatening health issues. Now 6, Nissi is benefiting from a Family Empowerment Scholarship for Students with Unique Abilities.
"Every child deserves a school that can provide him or her with their unique needs," Estrin said. "Every parent deserves the right to make that choice. We hope that our legislators find inspiration in Nissi's story and continue increasing educational options for all of Florida's children."
Jacob said this year's event drew supporters from Orlando as well as South Florida. He said Florida's scholarship programs allow schools to provide high quality education and improve the quality of life for the entire Jewish community.
"We are always giving support to the politicians who advocate for school choice," he said. "It's the most significant issue in the Jewish community in Florida."