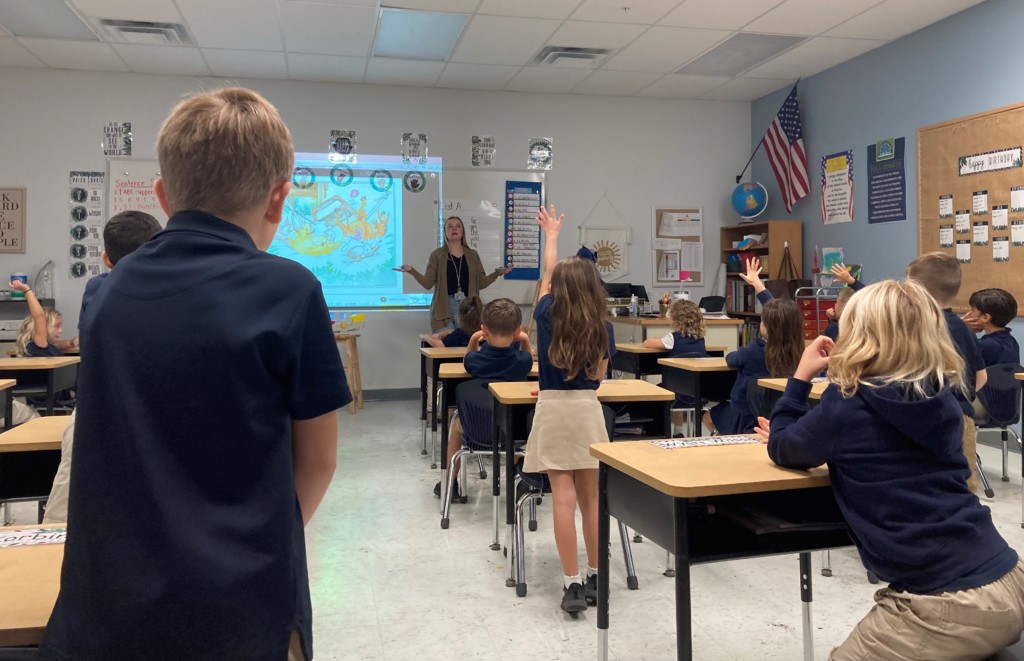 STUART, Fla. – The trials of Odysseus have nothing on the long and winding road that is classical education in America. Odysseus wandered for a decade. Classical education has been sidelined for a century. But the gleaming new school in this stretch of Florida, not far from where lost treasures still wash ashore, is another sign of classical education's comeback.
Treasure Coast Classical Academy opened in 2019 with 535 students. Now it has 1,200 students, with nearly 800 on a waiting list.
The growth is especially telling given the location. Martin County is home to one of the highest performing school districts in Florida and, at the same time, has the state's highest rate of private school enrollment. Yet when parents here, both public and private, got the opportunity to send their kids to a classical charter school, droves of them didn't hesitate.
The No. 1 reason, according to surveys?
Curriculum.
"They're reading classics. They're not reading 'Captain Underpants,' " said principal Janine Swearingin. "The majority of the feedback we got was, 'We're blown away by the content.' Their kids have a lot to talk about. They're becoming interesting, knowledgeable people. They're excited about what they're learning."
Variations of this story are playing out all over the country as classical education regains traction. But choice-rich Florida is a notable hot spot.
Thanks to state-supported school choice scholarships – and to parents' desire for academic rigor – new classical private schools are cropping up, and existing ones are growing.
Meanwhile, classical charter schools are on a roll.
The Sunshine State now has 15 classical charter schools, including nine new ones in the past three years. Most of them, like Treasure Coast Classical Academy, are tied to the Hillsdale College Barney Charter School Initiative. Barney Initiative schools enrolled 2,000 students nationwide in 2013. Now they enroll 17,000, including 5,000 in Florida.
Three of the new schools also got help from the Optima Foundation, a nonprofit led by longtime school choice advocate Erika Donalds that provides operational support. A fourth, Jacksonville Classical Academy East, is set to open next fall. Optima is also opening a classical virtual academy next year that will be available to Florida students in grades 3-8. (For more, check out this excellent interview of Donalds by Mike McShane of EdChoice.)
Donalds said she frequently gets calls from people who want to start classical schools.
"Families are attracted to its knowledge-rich and values-based curriculum and the de-emphasis on technology," she said via email. "Concerned citizens also want to ensure students learn American history and the values that make our country the greatest in the world."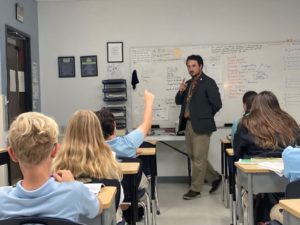 A classical education is sometimes described as "back to the future" and "best of the West." It's a systematic liberal arts education, inspired by Greek and Roman tradition, that was at the heart of public education in America until about a century ago. A classical education emphasizes history, literature, arts and language. It teaches students to strive for virtue. It puts a premium on reading the works of great writers and thinkers.
All of that is on full display at Treasure Coast Classical. The school opened with grades K-6 and is adding a grade each year until it becomes K-12. Kindergarteners read poems by Langston Hughes and Robert Louis Stevenson. Third graders study Julius Caesar and life in the Roman Empire. In ninth grade, they'll dive into Plato, Aristotle, Herodotus and Plutarch.
Jean Sicoli's daughter Gia, a seventh grader at the school, is learning Latin and reading "Fahrenheit 451." In a few months, she'll be reading Shakespeare.
"It's rigorous," said Sicoli, a former public school English teacher and literacy coach. "Students are definitely challenged in this learning environment."
Kristine Gunn said her son Nicholas, a third grader at Treasure Coast Classical, wasn't challenged in his former school. He was so bored, Gunn said, he stopped wanting to read the "baby books" he was assigned, and his grades started falling. At one point, Nicholas was required to learn and recite the steps to making ice cream. At Treasure Coast Classical, he was required to learn and recite the preamble to the U.S. Constitution. He loved the latter assignment, Gunn said, and is back to being a book fiend.
"I'm having to take books away from him because he's up in the middle of the night reading them," she said.
Treasure Coast Classical is humming now, but it endured its own little odyssey to get here.
The school had intended to open in its new building in the fall of 2019 but concerns from residents about growth and traffic pushed the timeline back. Plan B was leasing space from a church – and setting up 20 portables in the church parking lot. In January 2020, the school finally got to move into its building, but the elevators weren't operational. So the school squeezed 600 students on to the first floor, and then, when the elevator situation was resolved six weeks later, moved half the students upstairs, as intended.
The school finally did its ribbon cutting in February 2020.
But in March 2020, Covid hit.
(Shouldn't Athena have stepped in by now?)
For what it's worth, Covid turned out to be a blessing in disguise.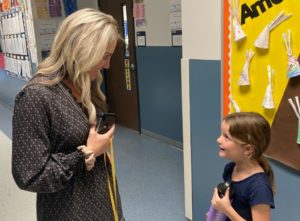 Parents at other schools got new perspective on what their children were learning in class – and, in many cases, weren't happy about it. At the same time, Covid showcased the strength of choice schools in terms of accountability and flexibility. If Treasure Coast Classical didn't figure out how to quickly offer quality distance learning, parents would leave. Thankfully, the school had the autonomy to do just that.
"We didn't have to wait for the machine," Swearingin said.
District schools in Florida and across the country lost enrollment during Covid. But Treasure Coast Classical started the fall of 2020 with 1,000 students – 400 more than it had in the spring.
Tracy Racich's twin boys, now seventh graders, were part of the school's first cohort. Nico and Anthony did well at their prior school, but the instruction was so focused on reading and math and standardized test prep that history and other subjects got short shrift, Racich said. She knew the new charter school was facing challenges with its building. "But the more I heard about the curriculum," she said, "the more I thought, 'I don't care if it's a tent in the woods.' "
Racich said her boys' vocabulary has "exploded" and they've never been more self-motivated to study. In the meantime, they're also learning valuable lessons tackling tough content.
"The stress of figuring something out is good for them. The challenge of it, that's life," Racich said. "You can't make it easy for kids so they have the illusion of success."