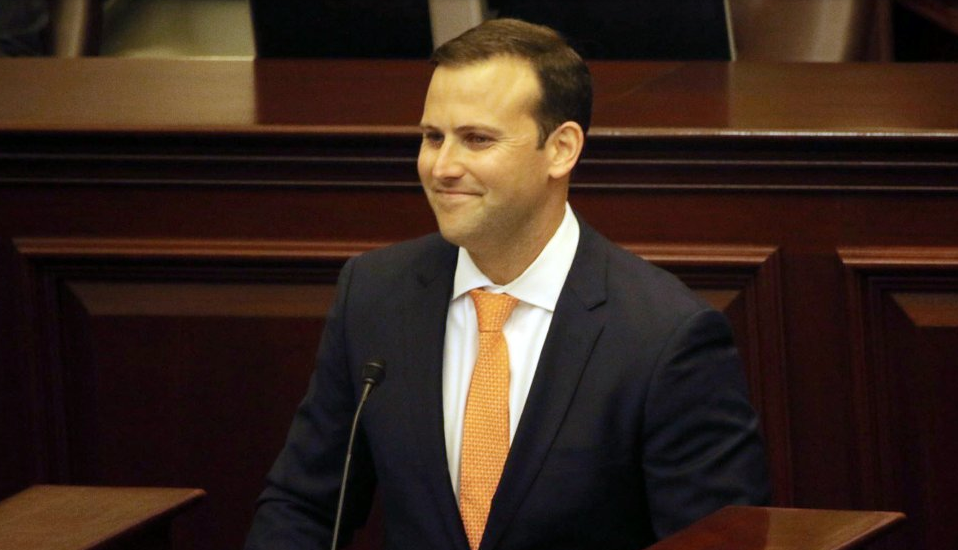 Editor's note: Throughout the week, the Florida Department of Education is recognizing the 14th annual Celebrate Literacy Week, Florida! Florida House Speaker Chris Sprowls, R-Palm Harbor, joined Gov. Ron DeSantis and Florida Education Commissioner Richard Corcoran at a news conference at a Wakulla County elementary school to highlight the New Worlds Reading Initiative, a statewide book delivery system that sends one free book each month to students in kindergarten through fifth grade. More than 81,000 students have signed up for the $200 million program approved during the 2021 legislative session.  Here are excerpts from Sprowls' remarks. To see the news conference, click here.
The power of getting a new book and getting a child excited about reading, excited about learning about the characters inside the pages they are going to discover, is the reason the Florida House came up with the New Worlds Reading Initiative at the beginning of the last legislative session … Our principals and our teachers and our schools like this one have done such an amazing job in making sure our children are learning to read.
We're proud to be fourth in the nation in fourth grade reading and making sure that we're making those strides, but what really makes a state like Florida not just good, but great, is about our ability to acknowledge when we can be even better. And I think that's what this initiative is all about.
When Education Commissioner Corcoran and the governor and I and others sat down and looked at the statistics in reading across our state, we found some alarming things. We realized that 88 percent of individuals who didn't graduate from high school were struggling readers in third grade. We realized that 43 percent of kindergarteners were not reading at proficiency when they started in elementary school.
We realized that even though we're doing better than so many of our national peers, it'd be 250 years if we kept on current trends to get to where we needed to be in reading proficiency in the state of Florida. And none of us thought that was good enough. Which is where you get the New Worlds Reading Initiative. It's all designed because, if a child can read, they can learn. If they can learn, then anything is possible.
What we are doing in the state of Florida no other state has undertaken. No other state is taking a moon shot like the New Worlds Reading Initiative. And prioritizing the fact that we believe that every child has the opportunity to learn, to be successful, and to be on a pathway to prosperity.