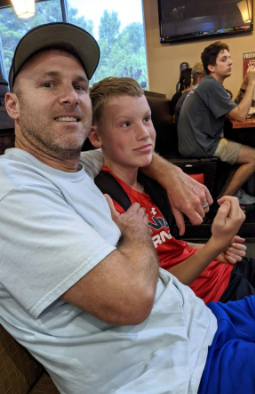 Editor's note: This first-person essay from Georgia mother Karen Robins was adapted from the American Federation for Children's Voices for Choice website.
My name is Karen Robins, and my son Ryan struggles with dyscalculia, or math dyslexia. It affects his ability to understand numbers – in dates, when telling time, when counting money, and when learning math facts.
Throughout his elementary school years, my husband and I moved Ryan from a public school to a private Montessori school and back to a public school. He continued to fall further and further behind his peers. He was fortunate to have some talented special education teachers who did their best to serve him, but it just wasn't enough. He continued to decline. He felt like a failure.
As a fifth grader, his test scores showed he was performing in math at a pre-kindergarten level. There was no way he could understand fractions, let alone master them. His struggles carried over to other subjects, including reading, where he was performing at a first-grade level.
Ryan would come home from school feeling frustrated. Homework assignments that should have taken an hour to complete dragged on for four hours. His self-esteem plummeted and he became convinced he was stupid. His friendships and social interactions suffered because so many of the games his friends enjoyed required counting and numbers.
It didn't help that he had been held back twice and was older than his classmates.
His teachers meant well, but they didn't know what to do for him. By the time he was old enough for sixth grade, I knew he needed a specific dyslexia program to be successful, but our school district didn't offer it. That's when I found out about the Academy of Innovation in Gainesville, Georgia, about an hour from our home.
The Academy of Innovation is a non-profit, accredited private school with a personalized and positive approach to teaching children in grades 1 through 12. It compliments, rather than competes, with the community's public education system, offering innovative approaches and proven, research-based teaching methods that address the individual needs of students like Ryan who face learning barriers.
And fortunately for us, the school accepts the Georgia Special Needs Scholarship Program, a school choice program available for special needs students attending Georgia public schools who are served under an Individualized Education Plan. I've been able to factor the substantial commute into my schedule, but there would have been no way we could have sent Ryan to the academy without the scholarship.
Ryan has been at the school for a year, and he's experienced a complete turnaround. He can spell, he can read, and he's working on math skills, all because teaching and learning is achieved in a different manner at this amazing school. I always suspected that Ryan's challenges weren't due to a lack of intelligence; he just required a different teaching method, and that's what we've found at Academy of Innovation.
A couple of weeks ago, all the students in Ryan's class were assigned book reports. Each of them chose a famous person who had dyslexia, like George Washington and Albert Einstein. Just recently, Ryan said to me, "Ask me how to spell anything. I know how to spell now because I understand how letters work."
Knowing my son is at a school that offers children with dyslexia the support they need is so reassuring. It's a joy to see Ryan thriving, to know that he no longer considers himself stupid. And he loves being with other kids like him, children who learn differently like he does.
School choice to me means being able to select the school that's the best fit for your child and being helped with the resources so he or she can attend that school. Not every school fits every child. I've seen that over and over, with my own child and with children in other families.
Looking back, I wish we had found the Academy of Innovation when Ryan was in first grade, but I'm grateful Ryan got there when he did.