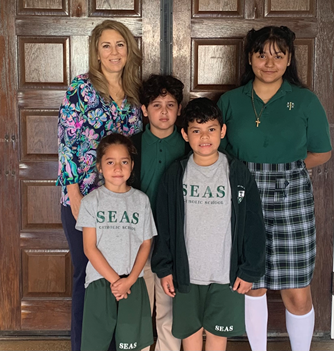 A parochial school program intent on extending education choice to children of migrant workers has received a national award for its efforts.
The National Catholic Education Association announced that St. Elizabeth Ann Seton Catholic School in Palm Coast, Florida, will receive the Catherine T. McNamee CSJ Award. The award is given to an individual or institution that offers exceptional leadership in promoting a vision of Catholic education that welcomes and serves cultural and economic diversity or serves students with diverse needs.
The award is one of five presidents' awards that will be bestowed April 18 at the association's annual convention in New Orleans. Given in honor of past NCEA presidents, the 2022 awards honor those who demonstrate change and inspiration to further the mission of Catholic education.
"Catholic school communities nationwide are blessed to have individuals and organizations such as our honorees as devoted and faithful servants to the gospel values we hold dear and a deep commitment to Catholic school education," association president Lincoln Snyder said in a news release announcing the winners.
St. Elizabeth Ann Seton received the national recognition for its participation in a rural education program. Founded in 1997, the school, known as SEAS, has an enrollment of 189 students in 3-year-old pre-kindergarten through eighth grade.
During the pandemic's onset, SEAS, partnered with its parish and St. John the Baptist Church in Crescent City, Florida, about 45 miles east of the school, to start the program for students of migrant workers whose parents deeply desire a Catholic education for their children.
"This endeavor is at the heart of who we are as Catholic schools," said Deacon Scott Conway, superintendent of the Diocese of St. Augustine, which includes 12,000 students enrolled at 37 schools, including St. Elizabeth Ann Seton. "Our schools were historically built to serve a population of that was immigrating to the United States, and the initiative continues that great effort that started in 1606 when the Franciscan Friars opened the first school in what is now known as St. Augustine."
SEAS' first cohort was comprised of 24 students, all of whom received Family Empowerment Scholarships for Educational Options, an income-based program managed by Step Up For Students, which hosts this blog.
Donors covered the difference between the scholarship amounts and tuition rates, principal Barbara Kavanagh said. A grant from the Diocese of St. Augustine provided uniforms and bus transportation to the school, which is about an hour's drive from Crescent City.
The school also devoted a resource teacher to the program to provide extra educational and English language support to the students.
"We thought we would need at least six months to do outreach to the families, assess educational needs, and get our transportation kinks worked out," Kavanagh said. "Sometimes when something is ordained by God, it is on its own timeline. We started the program right away."
Kavanagh said the program's success is evident in the smiling faces and academic growth of the students it serves.
"They are more confident and are achieving great things academically," she said. "Through donated funds, we were able to provide a teacher for educational support to bridge some of the students' academic gaps caused by the pandemic."
The program has many rewards but also requires sacrifice. Students are on the bus by 7 a.m. each day and travel for nearly an hour each way.
"Our bus driver, Ms. Charlene Nieves, is bi-lingual and has established a great rapport with the students and families," Kavanagh said.
Last week, she said, a program participant in eighth grade named Ashley came to the office with news of her acceptance to St. Joseph Academy a Catholic high school in St. Augustine.
"Beaming with joy, we shared a hug, and I teared up," Kavanagh said, adding that the student has been dedicated to her studies, active in service projects and has a "loving, positive, attitude."
SEAS currently is evaluating ways to expand the program and provide additional summer support.
Kavanagh said the Family Empowerment Scholarship program played a huge role in the program's success.
"Students from an underserved population deserve every opportunity to grow in knowledge and understanding in an environment that nurtures their gifts," she said. "We offer that to all our students at SEAS and feel especially blessed that we can offer it to our families in the rural education program."
A former resident of New York, Kavanagh is aware that not all states support school choice as Florida does.
"I have seen the devastation and the palpable sadness when a school must close because the families who need that school community most just simply cannot afford it," she said. "We must do more as a country to support parental choice in education for the benefit of all the children. Florida offers a fine example for the rest to follow."