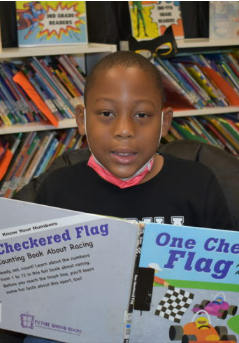 ORLANDO, Florida – Shakelia Henderson sat behind the desk inside a classroom that was recently converted into a library and nodded at the shelves full of books that lined the walls.
"This," she said, "is the beginning of a literacy journey that's going to make our kids stronger. I really do believe that."
Henderson just completed her fourth year as principal at Alpha Learning Academy in Orlando, a K-5 private school. The majority of the 139 students attend with the help of education choice scholarships administered by Step Up For Students.
Henderson, who has been in education for nearly 25 years, is keenly aware of the role reading plays in a child's learning. A student who struggles to read is more likely to struggle in other subjects.
"It's important for students to engage with books to become strong readers, because reading is the foundation of all the subject areas," said Henderson, an English major in college who taught language arts before moving into the administrative side of education.
She was aware ALA did not have a library when she became the principal and made it her mission to correct that. It took three years to get the project rolling and almost another year to convert a classroom into a library, obtain books and add labels to each so they can be filed probably and monitored through the checkout system.
The library opened May 1 with six ribbon-cutting ceremonies – one for each grade.
Naasir Laird, who enters the second grade in August, said he was "so excited" when he found out his school was getting a library.
"I like that we can read books, and we can all have fun reading them," he said. "It's really fun when I come here."
To continue reading, click here.