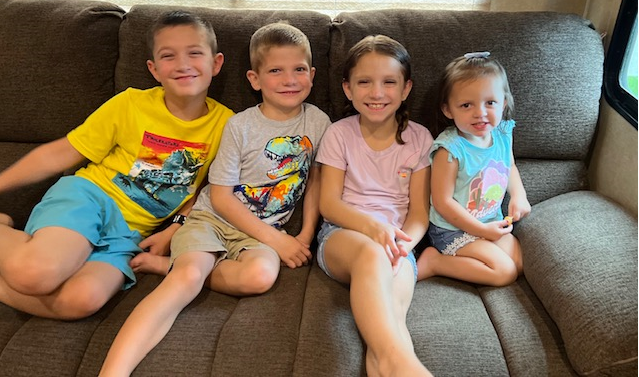 Tamra Creighton's kids love books.
"After school, we do a little bit of reading and then before bed," said Creighton, a mom to seven children ranging in age from 10 years to 10 months. "During the summer we're on trips, we read in the car to and from or inside the RV. Each one would pack a bag, and that was their to-do thing while we were out and about."
Her husband is a lineman who travels to work for different utilities, and the family sometimes travels with him. The books provide a fun activity that helps boost the children's reading skills.
Three of Creighton's children, Mason, 10, Zoe, 8 and Boston, 7, found an extra reason to be excited about books after enrolling in the state's New Worlds Reading Initiative last year. The program, created and funded through state legislation in 2021 and championed by House Speaker Chris Sprowls, R-Palm Harbor, distributes one free book per month during the school year to qualified children in kindergarten through fifth grade enrolled in Florida district and charter schools.
The University of Florida Lastinger Center for Learning is administering the program, which is funded by a $200 million appropriate in the 2021 state budget as well as a corporate tax-credit program that provides a dolloar-for-dollar return in tax credits for a corporation's donation. Lastinger is partnering with Scholastic to distribute the books to each student.
Books are available in English, Spanish and Haitian Creole. Kids get to choose the topic of books they receive. Shaunté Duggins, assistant director of the New Worlds Reading Initiative, said the most poplar topics are adventure and humor.
Creighton appreciates the diversity of subject matter; her daughter loves books about the arts, while Mason enjoys mysteries. Boston prefers nature-themed books, especially those about sharks and dolphins.
The kids were recommended for the program after moving from Columbia County to Lafayette County. Their former schools offered the Accelerated Reader program, which incentivized reading and engaged them with quizzes and reward points for reading more books.
Their new schools did not offer the program, and the children's engagement began to slip as a result. Boston, the 7-year-old, has trouble remembering what he reads and struggled in first grade. So, their teachers invited Creighton to sign them up for New Worlds Reading Initiative.
Creighton says the program has made a positive difference.
"Boston has really benefitted the most," she said.
Each child's books arrive at different times, and every delivery excites all of them. Each child has used the books to start a personal library, which is one of the goals of the program.
Duggins, reflecting on reading's ability to transform lives in incredible ways as reading proficiency supports and promotes learning in all subjects, said teachers are important ambassadors of the program.
"They share our mission in instilling a love for reading within students and helping them read on grade level," she said. "We are absolutely thrilled to partner with educators, families, and communities to deliver books to the homes of over 100,000 families to help instill a lifelong love of reading."
As of July 13, the program had enrolled 161,000 families according to the Florida Department of Education. But Duggins said the program is only at its inception.
"We're working hard to ensure that every eligible child across the state of Florida has the chance to enroll," she said.
The book distribution system joins another statewide program available to enhance literacy skills for struggling young readers who attend district and charter schools. The New Worlds Reading Scholarship Accounts program, formerly known as the Reading Scholarship, provides $500 per student. Created in 2018, the program allows funds to be spent on tuition and fees related to part-time tutoring, summer and after-school literacy programs, instructional materials (including desktop/laptop computers and tablets and curriculum related to reading or literacy.
Step Up For Students, which hosts this blog, administers the New Worlds Reading Accounts program.