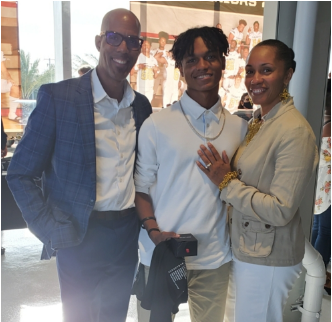 Like nearly every football-playing high school senior in the country, Khairi Muhammad dreams of an All-American college career that leads to his selection near the top of the NFL Draft.
The desire fuels him, sometimes waking him in the middle of the night with a burst of adrenalin so strong he hops out of bed to do pushups.
Unlike nearly every football-playing high school senior in the country, though, Khairi, 18, is a newcomer to the sport. A wide receiver/cornerback, he didn't begin playing until TRU Prep Academy started a football program when he was 16.
Khairi attends the school on a Florida Tax Credit Scholarship made possible by corporate donations to Step Up For Students.
"Football wasn't my thing," he said. "We weren't a football family."
"We didn't even own a football," added his mom, Andrea.
Originally, Khairi wanted to work out with the team – join them in the weightroom and on the field during the conditioning portion of practice. At the time, he was into mixed martial arts, rap music, hip hop dancing, and architecture.
He studied buildings in Miami, went to architecture camp at the University of Miami, and was a member of Black Architects in the Making. He planned on becoming an interior designer.
An honor student who finished the 2021-22 school year with a 4.6 GPA and 31 college credits through dual enrollment at Miami Dade College, Khairi figured he would earn an academic scholarship to college.
But the more time he spent with the football team, the more intrigued he became with the sport.
After one practice, Khairi told his mom, "I think I want to play."
To continue reading, click here.