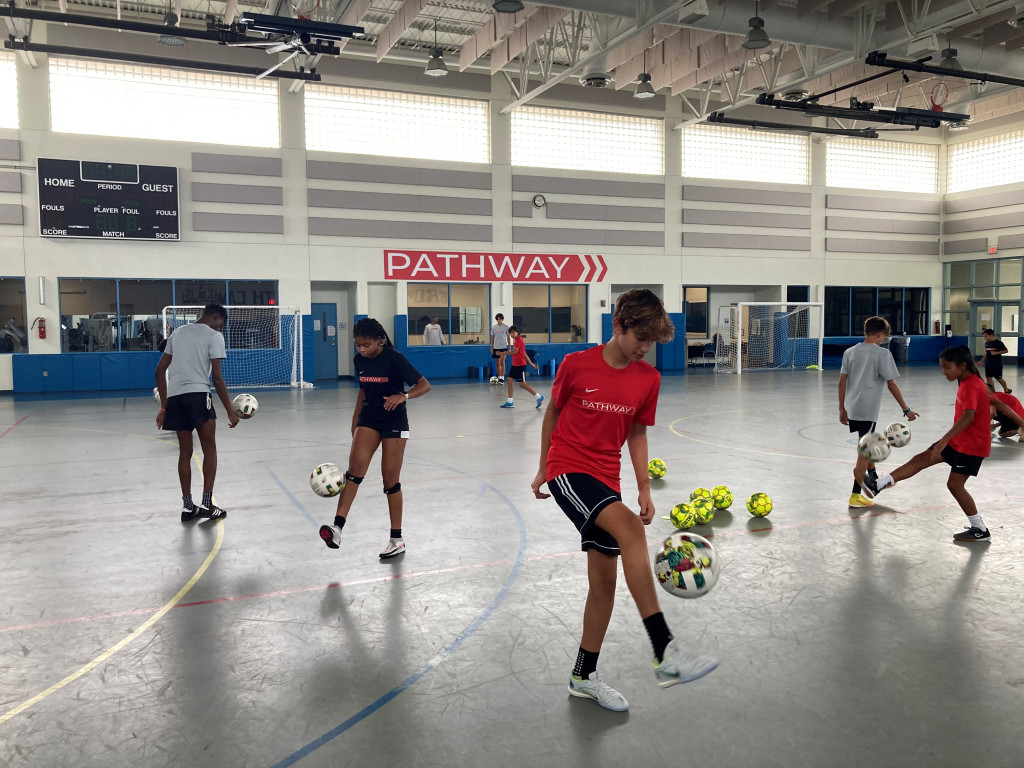 PEMBROKE PINES, Fla. – Danny Villegas knew that if South Florida wanted to develop the kind of elite soccer talent found in Europe, it would have to offer more than the usual part-time coaching and training – and reach more than just the kids from wealthier families.
So five years ago, he joined his friend Djems "DJ" Lima, who had come up with a concept that, in this era of increasingly customized education, is still surprisingly kind of rare: A K-12 school for athletes.
At the soccer-focused Pathway Schools, "We're making better humans, better students, and better players," said Villegas, a high school soccer star in Miami who went on to play professional soccer in Mexico, Brazil and the U.S.
The idea for Pathway "came out of me realizing I can't develop a high-level athlete without working on all the components," said Lima, who played soccer in college and earned a degree in business management. "With eight hours in a focused environment, we can really cater to the kids' needs. Not just the athletic aspect, but the academic aspect and the mental aspect."
A school for athletes can take promising young players to the next level.
School choice can help ensure even more promising young players have that opportunity.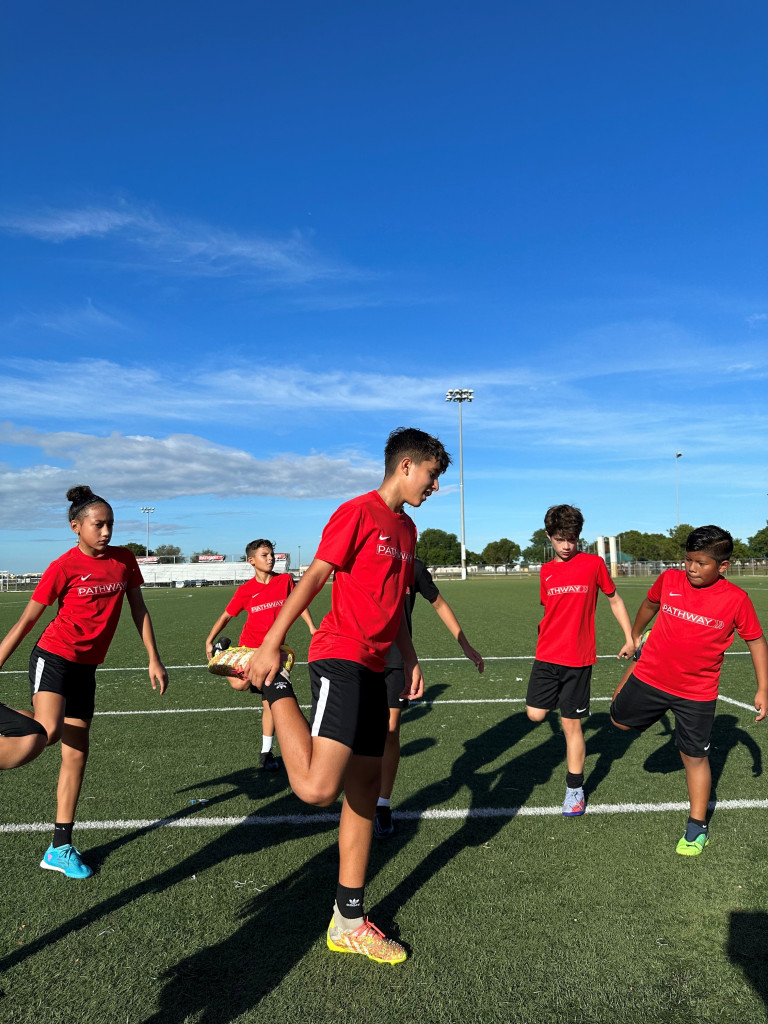 Pathway has three campuses in South Florida that share the brand but have separate owners. Altogether, they serve about 75 students, most of them in middle and high school.
Villegas owns the one in the city of Pembroke Pines, in the vast patchwork of semi-tropical suburbia that is Broward County. It's hard to imagine how he could have secured a better facility.
Pathway rents space on the south campus of Broward College, a state college that decided in 2020 to end its athletic programs. Pathway students have access to the college's academic and athletic facilities, including its gym, locker rooms and soccer field.
Thanks to school choice, Pathway Schools will be financially accessible to a broad range of students.
Sixteen of the 24 students at the Pembroke site use income-based school choice scholarships. (Those scholarships are administered by nonprofits such as Step Up For Students, which hosts this blog.) The other two campuses are in the process of meeting state regulations for educational facilities so they can accept scholarship students next year.
Having those students "will make our impact that much greater," Villegas said. "Some of the most talented soccer kids often don't have the money."
Marilyn Hawthorne said without a choice scholarship, she probably wouldn't have been able to enroll her 16-year-old son, Emerson Butcher. Hawthorne is a nurse and single mom with two other children, both of them in college.
Pathway is perfect for Emerson, she said, and not only because he's getting expert coaching. The 11th-grader is also getting the preparation and motivation he needs to excel academically, something he wasn't doing at his prior school.
"My son is very bright, but he didn't have much interest in school," Hawthorne said. Pathway turned out to be "the right place at the right time. He has 100 percent turned it around."
For its core academic curriculum, Pathway relies on Florida Virtual School. FLVS is the nation's largest state-run virtual school, and it has long enjoyed an excellent reputation for academic quality. Pathway supplements FLVS with a team of on-site instructors who can offer one-on-one help.
The typical day's schedule is soccer training in the morning, followed by four hours of academics, followed by soccer training in the afternoon. The school does not field its own club or travel teams – "We're club neutral," Villegas said – but all of its students play on top teams in soccer-rich South Florida.
The goal for Pathway students is to play at least at the college level – and to earn college scholarships in order to do that. To that end, Pathway students can't participate in soccer training unless they maintain As and Bs in every class.
"When they're motivated by what they love, which is soccer, they'll do what they need to do," Villegas said. "They realize, 'Whoa, they're holding me accountable.' We're a soccer school. But grades are important."
Pathway Schools also put a lot of focus on non-academic skills, including self-discipline, emotional maturity, and mental toughness. At his campus in another Broward city, Coconut Creek, Lima has his students read Angela Duckworth's "Grit," about resolve and resilience, and the motivational business classic "Who Moved My Cheese?"
The schools are not only proving popular with hard-core soccer players in South Florida. They may be a template for education entrepreneurs in Florida and other choice-rich states who want to cater to their own athletic niches.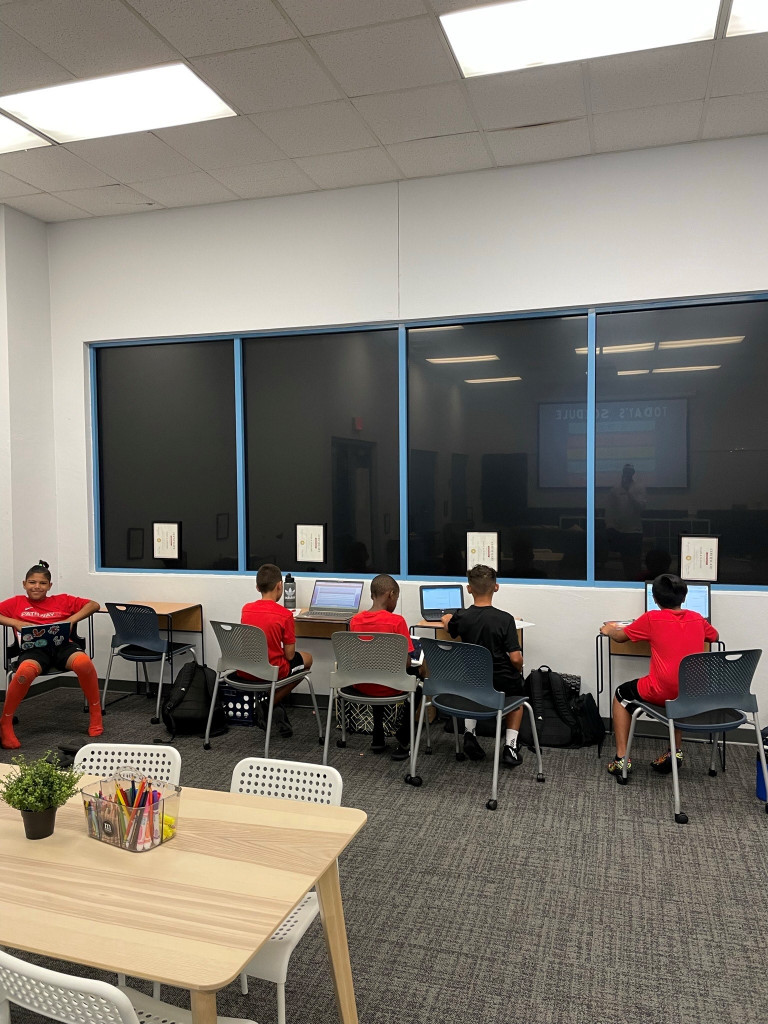 "When we meet kids where they're at, and we align with their passions, it's their dream school," Villegas said. "They never thought this could be a reality."
Eleventh-grader Zoe Burger was in a traditional private school before she enrolled in Pathway last year. She recently traveled to Peru after getting an invitation to play with the 17-year-old-and-younger Peruvian national team. She has also traveled to Europe to watch top-tier soccer there. She said she loves the training and competition at Pathway, and the flexibility that comes with FLVS.
"I don't have to stress about assignments being done the same day," Zoe said. "If I was in a regular school, I would get kicked out." (To be clear, Zoe is no slacker. She's already taken two Advanced Placement classes and plans to take more her senior year.)
Ninth-grader Madison Stewart was in a district school two years ago, and in FLVS full time last year. The latter was good academically but left a void. "I missed the social aspect," she said. "It was hard doing school alone."
When her mom told her about Pathway, Madison thought it was too good to be true. "I want to go as far with soccer as I can," she said. "If there's a school for it, why would I not go there?"
Emerson Butcher said the atmosphere at Pathway has been especially good for him.
His grades weren't the best in his prior public school, he said. But now he has no choice but to make A's and B's.
"I'm going to be honest: I'm a class clown. But here, I'm more focused," Emerson said. "There's a lot of motivation because I love playing soccer."