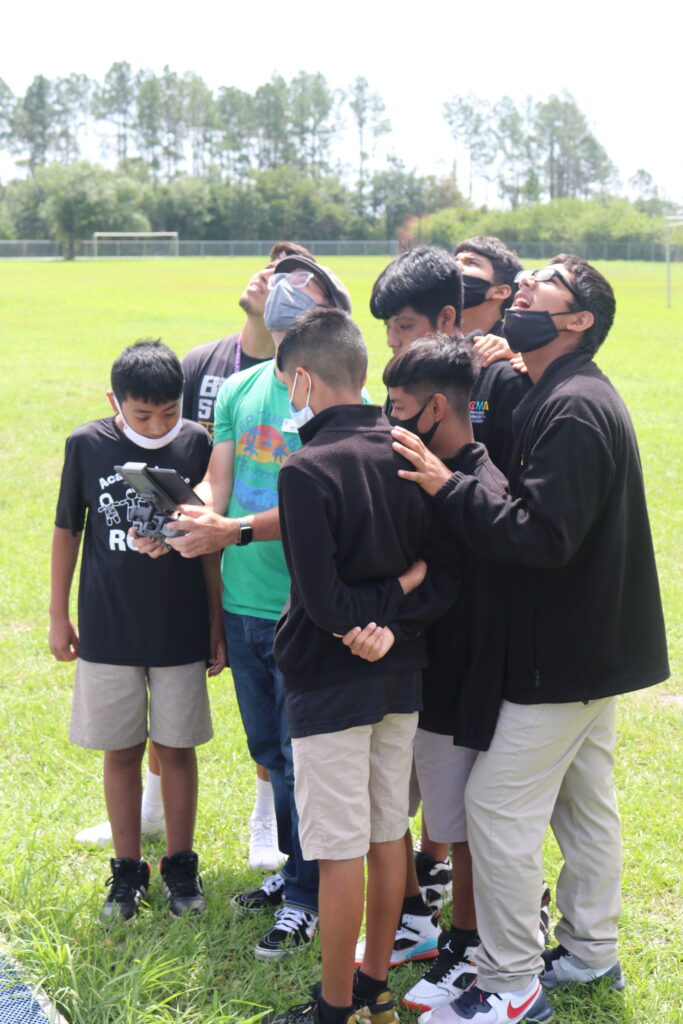 The students at Wimauma Community Academy were so determined to win an online math competition that they came to school over the weekend to stay at the top of the leaderboard. At a school where about 95% of the students live below the federal poverty level and don't have Wi-Fi at home, that was the only way they could compete for the $15,000 prize
Despite their challenges, the students are excelling thanks to Redlands Christian Migrant Association, which established two Florida charter schools in 2000 for children of migrant farmworkers.
"We're proud that we're a public charter school and that we are nonprofit," said Juana Brown, the organization's director of charter schools. "Some of these babies who started out in our migrant Head Start programs are actually teaching in our schools. It's a beautiful thing to come full circle."
The students won the math competition and took home the prize, which school leaders used to build a pavilion on their campus in a rural area southeast of Tampa, Florida. The victory earned them local media attention.
This year, Redlands, which operates the Wimauma school and another charter school in the rural southwest Florida community of Immokalee, has attracted national attention as one of 32 semifinalists for the Yass Prize. Philanthropist Janine Yass founded the awards program in 2021 to reward the innovation in education that resulted from the pandemic with a focus in underserved populations.
Since last year, the awards program, formerly known as the STOP Awards, has broadened its scope to innovation beyond the pandemic. It also included more grants as well as an accelerator to help the entrepreneurs learn from experts and each other.
(John F. Kirtley, founder and chairman of Step Up For Students, which hosts this blog, is part of a blue-ribbon panel of Yass Prize winners from last year and supporters of education choice who are evaluating this year's entries.)
The 64 quarterfinalists, announced in October, each received a $100,000 award. Those who went on to be named semifinalists received $200,000. The finalists will be announced Dec. 14 and receive $250,000. The overall winner will receive the $1 million Yass Prize. (You can read about last year's top winner here.)
Wimauma Community Academy serves students in kindergarten through eighth grade whose parents are migrant farmworkers. A sister charter school, Immokalee Community School, serves students in kindergarten through seventh grade.
RCMA's mission focuses on improving the quality of life for Florida migrant families through education from "the crib to high school and beyond" and wraparound care that includes training and social services.
The organization operates childcare centers in 21 of Florida's 67 counties. In addition to providing a safe place for children to learn while their parents are working, the centers also serve as community hubs, linking families to social services such as health care and providing training in such subjects as GED classes, nutrition, parenting, language, and household management.
A group of Mennonites founded the organization in 1965 after seeing young children having to spend all day in unsafe conditions while their parents picked produce in the fields. Kids were being exposed to pesticides and the pests they were targeting. One child died after falling into a drainage ditch.
"Children were sleeping in trucks," Brown said. "There was no accessible and affordable child care."
After opening a childcare center to serve the families and seeing few takers, the Mennonites decided to train migrant mothers and employ them to staff the center. After that, the families poured in.
As more families requested expanded education opportunities for their school-aged children, RCMA opened the two elementary schools in 2000.
Ten years later, RCMA added a middle school, RCMA Leadership Academy, to its Wimauma campus. Both Wimauma schools serve a total of 300 students.
Wimauma Academy third graders scored in the top 20 in the state in math. At RCMA Leadership Academy, 29 of the seventh- and eighth-grade scholars entered high school this year with Algebra I credits and nine with Algebra I and geometry. In civics, the seventh graders' proficiency scores beat the state and county, and eighth graders topped the state and county in science.
Like the school in Wimauma, the Immokalee School received a "B" grade from the state. In May, the Florida Board of Education designated RCMA as an operator in its Schools of Hope program. The designation allows RCMA to open schools in neighborhoods where a traditional public school has been persistently low-performing and/or is within a Florida Opportunity Zone.
The designation makes RCMA eligible for state funds and low-interest loans as the 57-year-old nonprofit organization expands its charter school operations.
"This is the first year our sixth-graders are taking algebra," Brown said. "We believe our students are extraordinarily talented and gifted and with the right support can be successful."
In addition to core academic subjects, the schools offer families fresh produce, which ironically is not accessible or affordable to them even though they harvest it.
"Most of them live in food deserts," Brown said.
So, the students planted their own vegetable gardens to help families with nutritional needs. In Wimauma, the school brought in chickens to help with pest control. Students who cared for the fowl called their group "The Chicken Tenders."
The organization features alumni success stories on its website. One of its former students, Zulaika Quintero, attended the University of Florida on a full academic  scholarship and now is principal at the Immokalee Community Academy.
The Charter School Growth Fund, the largest funder of high performing charter schools in the country, pledges a $1.275 million investment over four years to help RCMA expand its schools.
RCMA plans to open the K-8 Mulberry Community Academy for the 2023-2024 school year, followed by another K-8 school in Immokalee and a K-8 school in Miami-Dade County. But RCMA doesn't plan to limit its growth to the Sunshine State, Brown said. The nonprofit's goal is to provide support for those seeking to establish programs in other states to help immigrants.
"I believe our model is one that serves families that are making that transition, and I think we have an educational model that supports the children and the families," said Brown, who came to the United States from Cuba when she was 7 and knew no English. "We can give you some things we believe can make a big difference."