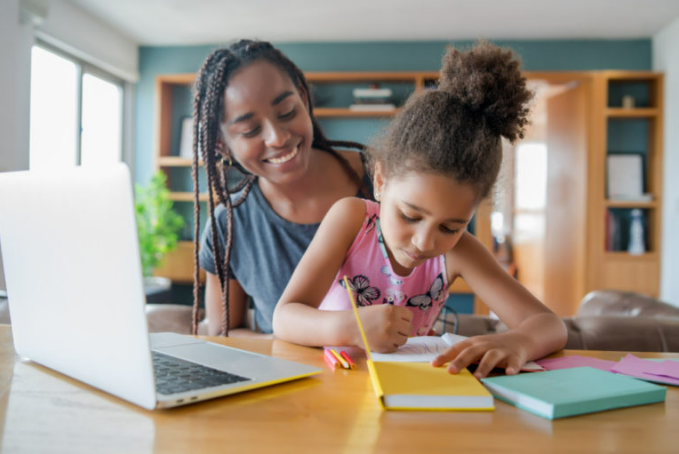 Editor's note: In keeping with our year-end tradition, the team at reimaginED reviewed our work over the past 12 months to find stories and commentaries that represent our best content of 2022. This post from reimaginED guest blogger Jonathan Butcher is the first in our series.
Oklahoma parent Kelly Shank says that if her youngest son had anything to say about it, he would not socialize at all.
Now in sixth grade, her son has been diagnosed with autism. She knows that he cannot go through his life without interacting with other people, despite his unique needs.
"I wanted to make sure he knew how," Shank says.
Yet Shank and her husband had to pull their three children out of the private school they had selected for them—"Life happens," she said—and now they homeschool their autistic son. Shank had to leave a job she loved and homeschool all three children for a period during the COVID-19 shutdown.
One less job in the house changes the family budget, which means transitions and adjustments to everyone's daily routine, all of which are hard for a family of five.
"Why are some kids able to have a choice and some are not?" Shank asks, frustrated that her children's school options have had to change. "Every child is just as important as the next."
Oklahoma lawmakers are considering a proposal to give more education options to children across the state, a proposal that, after the adjustments the COVID-19 pandemic forced on parents like Shank, would be welcome to families from all walks of life.
State officials are considering Oklahoma Empowerment Accounts. These accounts would be a form of education savings accounts, which are learning options available to students in nearly a dozen states, including Oklahoma's neighbors in Missouri. Parents can use the accounts for spending that lawmakers set aside for K-12 needs, purchasing education products and services for their children.
In states offering these accounts, families can find a personal tutor for their child, pay for education therapies, choose a private school, educate a child at home, or even customize their student's learning experience with a combination of these and other learning options.
Research conducted on families using the accounts in Arizona, Florida, and North Carolina finds that families are discovering unique education solutions to meet their children's needs.
Some families choose a new school for their children, while others design a school day that includes in-person tutoring, online classes, and independent work. Approximately two-thirds of North Carolina's account holders are customizing their child's school day, all while using less spending per child than what taxpayers send to traditional schools.
During the pandemic, families using accounts in Mississippi and North Carolina reported that they were able to continue to receive services from an education therapist because of their account's flexibility. Meanwhile, children in assigned public schools, including children with special needs, found their services were interrupted when traditional schools were closed to in-person learning.
Oklahoma Gov. Kevin Stitt created account-style solutions during the pandemic to help a limited number of children from low-income families access K-12 private school scholarships, along with textbooks, tutoring, and other education expenses. Now, lawmakers have the chance to give children across the state these great opportunities with the Empowerment Accounts and should consider broad provisions that offer options to more families, not fewer.
The accounts can help children from a variety of backgrounds succeed in school and in life. In Arizona, children living on tribal lands are eligible for the accounts, along with students assigned to failing schools and children in the foster care system, to name a few eligible categories.
In West Virginia, where lawmakers adopted an education savings account proposal last year, nearly all public school students can apply for an account, and lawmakers have made plans to increase eligibility to include children who are learning at home or attending private schools.
During the pandemic, Shank says her daughter told her, "I don't want to look forward to anything because every time I do, I get disappointed." At every turn, circumstances surrounding COVID-19 stalled plans for the future. Shank feared for her autistic son's future at the same time she worried about how her daughter was missing "a real high school experience."
"As a parent," Shank said, "who wants to take that away from their kid?"
Some students and families are happy with their assigned schools, but lawmakers can help those who are not. "[All students] should all have the same opportunity to succeed in life," Shank said.
Now that would be something to look forward to.