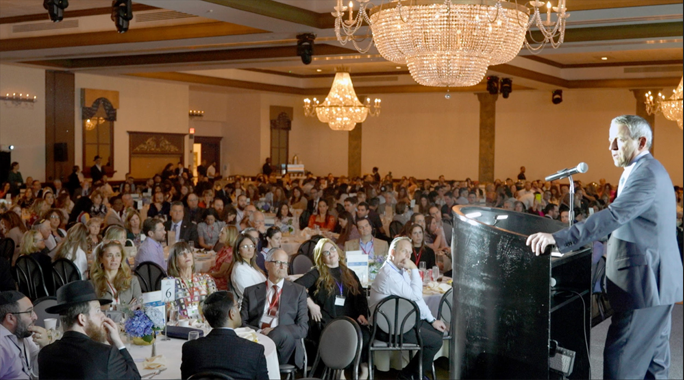 With less than two months before the start of the 2023 Florida legislative session, more than 750 Jewish leaders, parents and other supporters of education choice gathered at a breakfast in Davie, Florida, to encourage lawmakers to custom it for more families.
"Our theme of this year's theme this year is changing lives, one scholarship at a time, because every child matters," said Daniel Aqua, executive director at Teach Florida, a project of the Orthodox Union and host of the annual breakfast.
"We are so grateful to our elected officials for creating and expanding these incredible scholarships that are helping thousands of children in our community."
The focus of the event, which began in 2017, is to celebrate the organization's legislative victories in securing government funding for families sending their children to Jewish day schools.
You can watch a video recap of the event here.
In addition to Aqua, others who spoke at the event were Speaker of the Florida House of Representatives Paul Renner, R — Palm Coast; Rep. Randy Fine, R — Palm Bay; Teach Florida Chairman Allan Jacob, a South Florida physician and chairman of Teach Florida; Teach Florida Funding Specialist Malka Rhodes; and Teach Florida Engagement Director Melissa Glaser.
Renner said the goal is to do more than let families choose only from among traditional forms of education.
"We want to get to a place in Florida where every child's education is customized," he said. "Even brothers and sisters learn differently, and we can only do that through school choice and education savings accounts, which allows you to more than just pay your tuition, but to get an at home tutor, to do things online, to do things that further enrich your education experience."
Two states recently adopted programs that allow more customization.
West Virginia lawmakers In 2021 approved the Hope Scholarship, which allocates eligible families about $4,300 per child per year to individualize their child's education, paying for tuition, therapies, curriculums and more. It marked the nation's broadest education reform of its kind.
In 2022, Arizona followed suit by opening education savings accounts to every K-12 student in Arizona. During a celebration of the new law, then-Gov. Doug Ducey called Arizona "the gold standard for educational freedom in America."
Though other states, including Florida, have such programs, eligibility has been limited mainly to students with unique abilities or certain special needs.
Fine, who sponsored the nation's largest expansion of traditional education scholarship programs in 2021 and who received Teach Florida's Legislator of the Year Award last year, echoed Renner's support for expanded choice opportunities.
"What I'm hopeful we are going to do over the next two years is to see that every student gets every dollar for every method of education that they so choose," he said. "When we do that, that is when the mission of expanding school choice will be done."
The support for greater flexibility also comes as Florida's Jewish day schools are bursting at the seams, thanks to a population boom bringing people from other states who were drawn to Florida by the sunshine, the lack of pandemic shutdowns, low taxes and the state's expansive K-12 education choice scholarship program.
Florida leads the nation with more than 242,000 children receiving a state scholarship – including a record 7,200 in Jewish day schools. More than 50 percent of Florida Jewish day school students receive a state scholarship. Since 2011, Teach Florida has secured more than $253 million in state funding for Jewish day school families.
The growth has fueled the opening of new schools, including Tampa Torah Academy, which opened this year to students in preschool through eighth grade.
Most recently, Rabbi Isaac Melnick, a fellow in the Drexel Fund's Founders program, announced plans to open Shorashim Academy, a private school to serve students from more casually observant Jewish families. The mission: to help connect students to their Jewish roots.