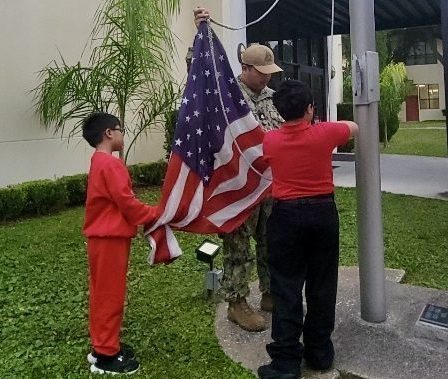 It's tough being the new kid in school. It's even tougher being the new kid every two to three years.
That's the norm for 1.2 million United States children born into military families. According to the Military Child Education Coalition, military-connected children move six to nine times between kindergarten and high school graduation.
Florida lawmakers recognized the stress such transitions can create and in 2021 passed HB 439 with bipartisan support to establish a Purple Star Schools of Distinction program in the Sunshine State.
The law grants schools that meet certain criteria to be military-friendly the designation of Purple Star Schools of Distinction. The program is open to public schools as well as private schools that accept state K-12 education choice scholarships. (Step Up For Students, which hosts this blog, is the state's largest administrator of state education choice scholarships, which allow automatic eligibility for dependents of active-duty military members.) So far, 121 schools across the state have earned the designation, including two private schools: Sacred Heart Catholic School in Jacksonville and St. John the Evangelist Catholic School in Pensacola.
Both schools are located close to military bases; Jacksonville boasts the third-largest military presence in the United States.
"We've always had a long history or supporting military families and the students who have been enrolled," said Sacred Heart Principal Archie Yumul, who earned a medical degree before deciding in 2005 to trade the world of genetic research for a career in teaching, and later, school administration. His school is about three miles from the Naval Air Station in Jacksonville, so "it seemed like a good fit that we would apply for the Purple Star School designation because of our relationship with the military."
The Purple Star Schools program has been around since 2016 thanks to Pete LuPiba, a Navy veteran and Ohio's commissioner for Military Children Interstate Compact Commission. He wanted to create another way for schools in the Buckeye State to support military-connected children in addition to following the guidelines of the compact, which were created to replace widely varying policies all 50 states that affect transitioning military students.
However, it wasn't until the past few years that grassroots efforts really gained momentum. So far, 34 states have passed legislation establishing the programs, while two states, Michigan and Oregon, have introduced bills.
In Florida, the state Department of Education recently established an application process for earning the designation. The requirements include the following:
Establish a military point of contact at the school to assist military families
Set up and maintain a military webpage linked to the school's home page that includes information about: transition planning, academic planning, resources and educational opportunities for military students, student-led transition programs, services for students in exceptional education programs, military recognition events, mental health challenges facing military students, and ways to access school-based mental health services
A student-led transition program
Training for faculty and staff on how to identify and respond to needs of military students
Open enrollment policy that reserves at least 5% of seats for military students
Involvement in at least three activities that recognize and support military programs and families
At Sacred Heart, which enrolls 417 students in 3-year-old kindergarten through eighth grade this year, the school established a chapter of Anchored 4 Life, a peer-to-peer group that helps students through transitions, including those common among military families. The group works to welcome and acclimate new students, as well as provide ongoing support. Members also coordinate recognition events for military members, veterans and first responders and prepare care packages for patients in VA hospitals and nursing homes.
"As a military child, I had to relocate several times and know how challenging that can be for little ones," said Barbara Ramos, the daughter of an Army veteran and wife of a Marine Corps veteran who now serves as the military liaison and adviser to Anchored 4 Life. Ramos also serves in the Air Force Air National Guard and so brings a parent's perspective to her role.
"I strive to make Sacred Heart a safe and comforting environment for both the students and the parents," she said. "I have had to deploy, and knowing my children had a true extended family with the staff and students at Sacred Heart was extremely comforting."
Yumul said the biggest challenge the school now faces is getting the word out to the community about these military-friendly designations.
To do this, the school is circulating flyers and meeting with military contacts on the bases. They also have a display wall of their credentials and programs, hope to put up outdoor signs, and seek to engage military members as school volunteers at events such as the annual spring carnival.
Yumul said military student enrollment has grown from between 5% and 10% to between 10% and 20%.
"Our office staff, teachers, and students have taken this challenge by the horns, and we've just been excited to be part of the process," he said. "We feel fortunate that we are one of two Catholic schools in the state of Florida to have this honor and distinction."