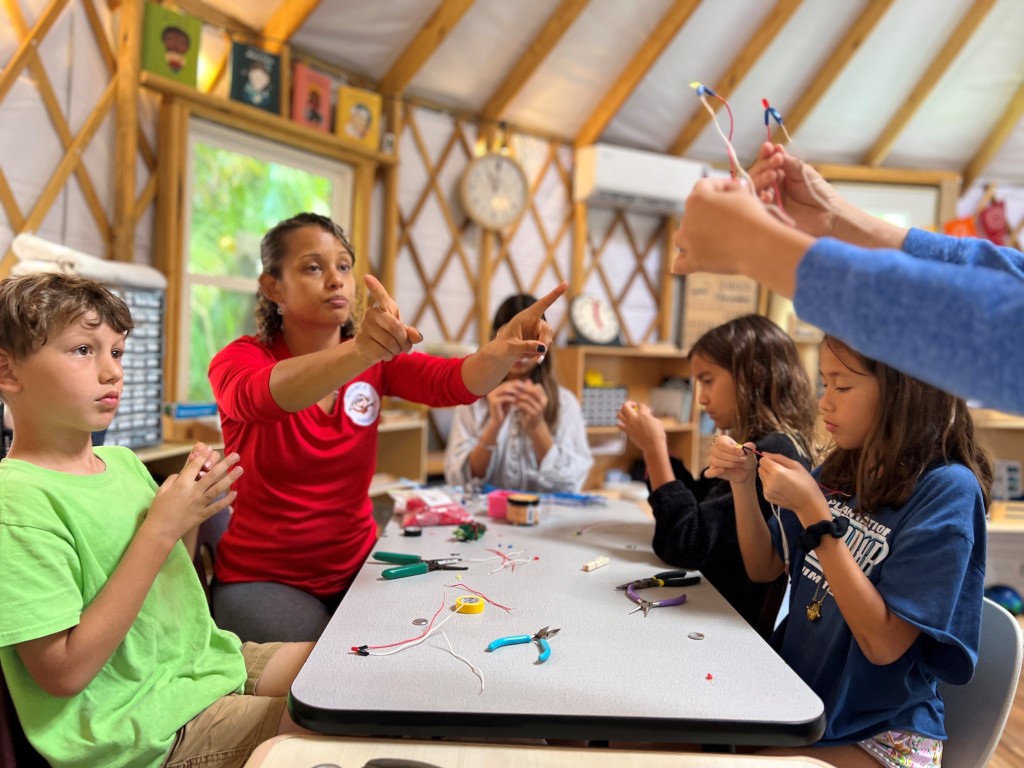 MIRAMAR, Fla. – Broward County isn't one of the locales featured in "The Geography of Genius: Lessons from the World's Most Creative Places." But if author Eric Weiner is game for a follow-up, he might want to visit this suburb where Johnny Depp grew up to see what's happening in the big back yard with the palm-thatched chickee, the garden rows covered with iguana-proof mesh, and the giant, white yurt.
This is Casa Ranch Montessori, a new but already thriving homeschool co-op.
Inside the yurt is a woman with a Ph.D. in neuroscience. She's showing six students ages 9 to 11 how to make LED Christmas trees, with diodes and copper wire and button batteries.
This is Neymi Mignocchi, owner of Eye of a Scientist, a new but already thriving enrichment program.
With Mignocchi's guidance, the students use pliers to bend wire around each arm of a diode, then wrap the segment with electrical tape. Along the way, they learn the difference between open and closed circuits, and insulators and conductors.
One by one, tiny light bulbs turn on.
At growing numbers of innovative little schools in Broward County, this is how education is happening – with a burgeoning ecosystem of schools and specialists working in synch.
This is the "Broward County Renaissance."
"I just love the collaborative feel with all these wonderfully talented people," said Priscilla Yuill, a 12-year Montessori teacher who started Casa Ranch in 2020. "Each and every one of these super humans share a common goal, and that is the will to revolutionize education. When educators are given the opportunity to connect, collaborate, and create, that's when magic happens."
Broward is home to 2 million people and America's sixth-biggest school district. It's also a hotspot for a mushrooming cluster of cutting-edge little schools.
That would be extraordinary enough; in fact, it's drawing national attention.
But what makes Broward even more fascinating is that it's not just the schools.
Whatever Miracle-Gro is in the soil is also yielding high-quality specialists like Eye of a Scientist. Instead of starting their own schools, these other entrepreneurs are focusing their talents on a single subject – and filling the niches the schools either can't fill themselves, or now no longer need to.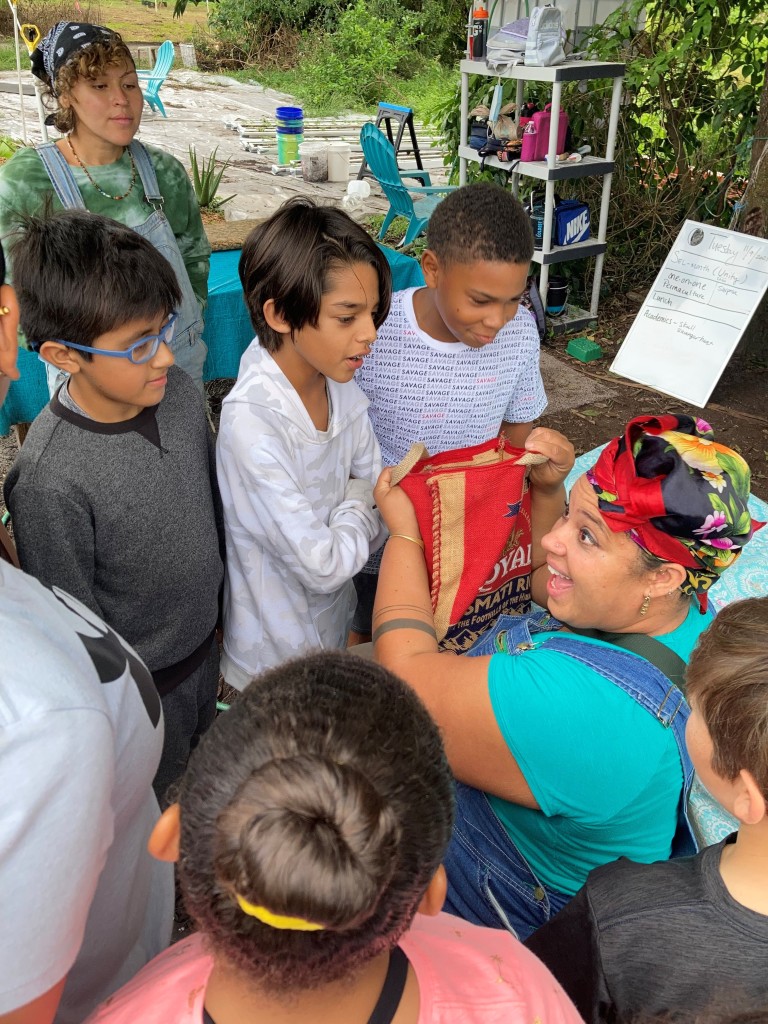 Education entrepreneur Shiren Rattigan put it this way: "We're the soup. They're the spice."
Rattigan is the founder of one of those cutting-edge schools, Colossal Academy, and in the thick of the Renaissance. She's the one who came up with the name, which sounds audacious until you see how many distinctive, interrelated providers have cropped up in this palmy sprawl north of Miami.
Casa Ranch and Colossal Academy both tap into multiple specialists, who in turn work with many other little schools. Specialists like …
Toni Frallicciardi, who co-founded Surf Skate Science with her husband Uli, majored in ocean engineering at the Florida Institute of Technology. Their nonprofit started off with six students in 2018. Last year, it served more than 2,000.
Other specialists in Broward focus on art, music, photography, PE. Some are more traditional providers, like the YWCA that offers classes on entrepreneurship. Others are unique, like the outfit that offered flying lessons to low-income students.
Even more are coming.
A former science teacher who works with Rattigan is creating a business that will customize field trips to nature parks and the Everglades. She expects her new venture to be more fulfilling than her teaching gig – and better paying.
All of this will rev into even higher gear if more families gain access to more flexible choice scholarships.
More than 70 percent of Florida families are eligible for traditional school choice scholarships, which can be used for private school tuition. But most cannot access state-funded education savings accounts (ESAs) that would allow them to access a richer variety of services and providers a la carte. If more families had that power, clusters like the one in Broward would become even more dynamic. And lower-income families in particular would benefit.
"That would level the playing field for a lot of people," Rattigan said.
The schools and specialists tied to the Renaissance are also emerging in Miami-Dade County to the south and Palm Beach County to the north. But Broward is its heart. And the vibe is infectious.
"We're all learning from each other, we're all getting energy from each other," said Mignocchi, who worked as a neuroscientist for six years before starting Eye of a Scientist.
Broward is no stranger to learning options.
Of the 14 big urban districts in Florida, Broward ranks No. 3 in the percentage of students enrolled in charter schools (at 19 percent) and No. 4 in the percentage of students in private schools (at 15 percent).
Over the past five years, no big district has seen a bigger jump in home schoolers. Last year, Broward had 10,412 of them, a 151 percent increase from 2017.
The county is home to one of America's most successful charter school networks, Charter Schools USA; to stellar faith-based schools like Abundant Life Christian Academy; to highly regarded Black-owned schools like Piney Grove Academy. "Alternative" private schools also have roots here, with exemplars like BB International, aka "The Renaissance School."
The thing about Broward, though, is the innovation just keeps rolling.
The latest wave includes Kind Academy, Compass Outreach, Take Root Forest School and so many others.
Many of these newer entities were founded by former public school teachers. Several have earned big-time accolades:
To be sure, challenges remain.
Some schools, like Colossal, participate in Florida's school choice programs. But others, like Casa Ranch, cannot, given current limitations with scholarship flexibility.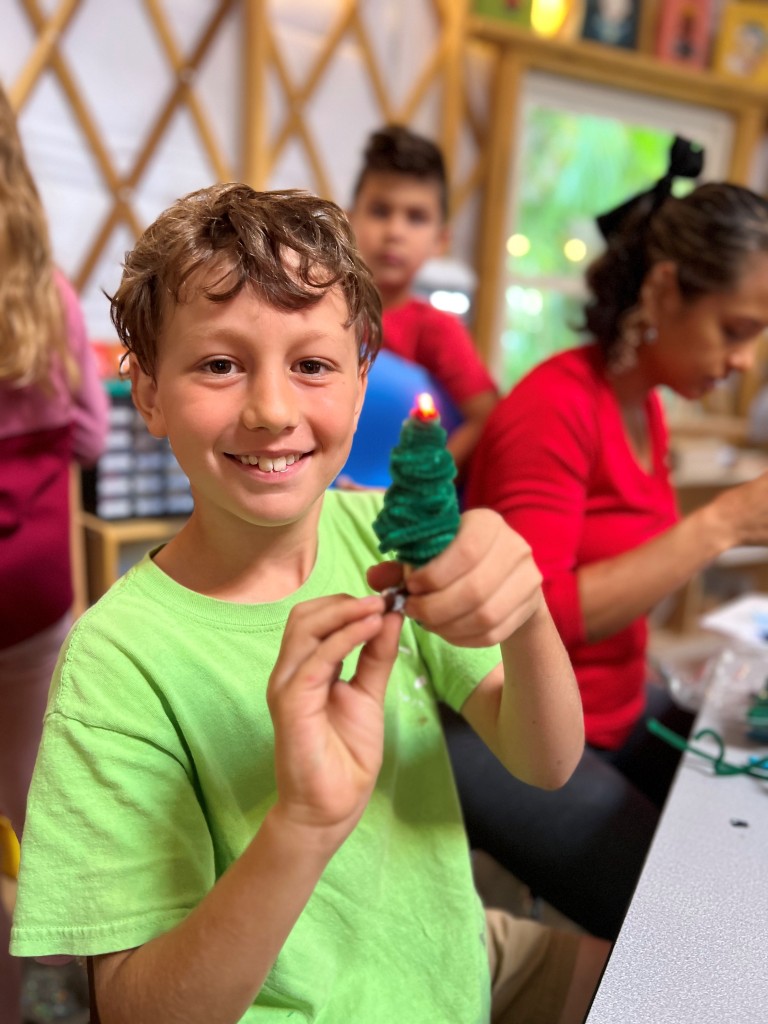 Yuill started Casa Ranch when schools closed during the pandemic. She wanted her children outside and learning, so she and some friends started a pod. As word of mouth spread, the pod grew.
Casa Ranch chooses to work with outside specialists in some areas to build a stronger, more vibrant, more hands-on curriculum. The co-op does Montessori-based science lessons, for example, but works with Mignocchi to enrich them and infuse them with real-world application.
"She's the missing link because she's an expert scientist who can really tap into students' curiosities," Yuill said. "She does all the hands-on learning after we do the subject learning."
Mignocchi's family fled to the U.S. from Venezuela when she was eight years old. She started Eye of a Scientist after deciding to homeschool her son.
She said she knows from experience with public schools, as a student and a tutor, where the gaps are with science instruction. Her goal is fill those gaps, and to inspire students to think like scientists.
She said she most wants to help low-income students, so they avoid the hurdles she faced.
"I was a straight-A student in the best classes in high school, but I went to college and almost flunked out," Mignocchi said. "They did not prepare me at all."
That's another reason ESAs are promising, she said.
Lower-income families are less able to access alternative learning systems, even though those models may be ideal for their kids.
A little flexibility with funding would mean a renaissance for all.