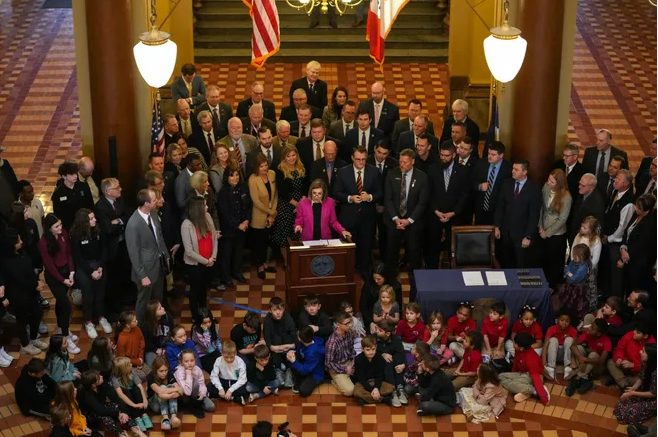 Editor's note: This commentary from Jordan Zakery, legislative director for ExcelinEd In Action, appeared last week on the ExcelinED website.
Education savings accounts offer important support for families in finding the right educational fit for their child. And this week, Iowa became the tenth state in the nation to adopt an education savings account program.
While state legislators came very close to expanding education choice in 2022, it was the strong leadership of Gov. Kim Reynolds — plus the commitment of Iowa's presiding officers and legislative champions along with a fresh crop of legislators — that took an ambitious education agenda over the finish line this year and onto the governor's desk.
Reynolds made empowering families with education opportunity her priority, and she built a strong coalition of lawmakers and advocates to help pass the state's first ESA program. The Students First Act also had overwhelming support from Iowans. According to a Morning Consult poll, 67% of Iowans — and 76% of Iowan parents with school-aged children — support education savings accounts.
The newly signed legislation allows eligible Iowa families to apply for an education savings account. For approved applicants, the state will then deposit nearly $7,600 (equal to the state's annual per-pupil funding) into the account to help parents send their kids to a school of their choice and cover other educational expenses.
The ESA program will phase in over several years, initially targeting underserved families and extending eligibility to all Iowa families after three years. According to the Iowa Department of Education, a massive 485,000 public school students will be eligible for an ESA in the program's first year alone.
Each and every child deserves access to a quality education. Iowa's Students First Act gives parents the freedom and flexibility to customize their children's education. As the governor said, "Every child is an individual who deserves an education tailored to their unique needs, and parents are in the best position to identify the right environment [for that education]."
Reynolds meant business as she fought to give parents more learning options to help students succeed. This week, she delivered on her promise of education reform and, especially, empowering families with school choice.
Because of this significant legislation, every Iowa student is on a path to reach their full potential.