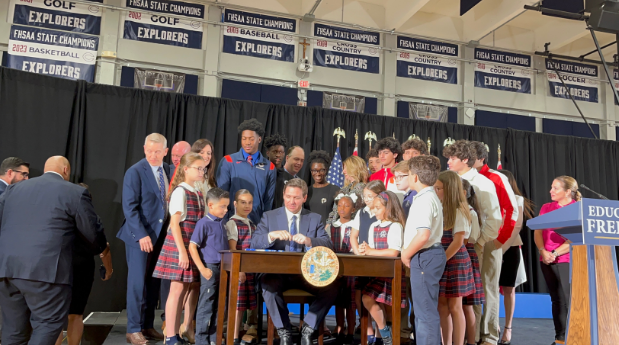 Surrounded by a group of students, Florida Gov. Ron DeSantis made history as he signed a bill into law that grants universal eligibility for K-12 education choice scholarships.
"This bill is a major game changer," DeSantis said just before he sat at a small wooden desk set up in the Christopher Columbus High School gym in Miami to sign HB 1, which passed the Legislature last week.
Girls dressed in plaid jumpers and boys in khakis and white school polos clustered around the desk in hopes of getting one of the prized ceremonial pens DeSantis used to sign the landmark legislation.
"The state of Florida is No. 1 when it comes to education freedom and education choice," DeSantis said, "and today, this bill signing cements us in that No. 1 position because we'll be signing legislation that represents the largest expansion of education choice not only in this state but in the history of these United States."
House Speaker Paul Renner, who made education choice his top legislative priority to the point of naming the bill HB 1, recapped how Florida went from nearly worst to first over the past quarter century, when then-Gov. Jeb Bush began advocating for policies that allowed students to leave failing district schools.
"Twenty-five years ago, our schools were at the bottom in terms of our scores," he said, comparing the system to the Eagles' hit song "Hotel California," about a sinister hotel from which guests could never escape.
"You could go into the school that matched your ZIP code, but you could never leave," he said.
Renner said in addition to families having their choice of schools, they also needed flexibility to customize each child's education to their needs.
"Even brothers and sisters within a family learn differently," he said.
Sponsored in the House by Rep. Kaylee Tuck, R-Lake Placid, and in the Senate by Sen. Corey Simon, R-Tallahassee, HB 1 makes all the state's K-12 students eligible for the Family Empowerment Scholarship.
Unlike in the original law that established the Family Empowerment Scholarship program in 2019, the program is now open to all students to apply regardless of income. However, families who currently receive scholarships and whose incomes fall below 185% of the federal poverty line will receive first priority, followed by those with incomes up to 400% above the federal poverty line.
Those with incomes above the 400% threshold will be last in line to receive any remaining funding.
DeSantis pointed out that while the law will give preference to low and middle income families, "at the end of the day, we believe the money should follow the student."
Another provision in HB 1 requires that funding for the formerly income-based scholarships must come from private tax credit donations that were used to fund the Florida Tax Credit Scholarship program before receiving money from state education funds.
In addition to expanding eligibility, HB 1 converts traditional scholarship programs into education savings accounts. Such accounts take funds that would have been directed to an institution and allow parents to use them to customize their child's education.
Under the new law, the funds, expected to be around $8,000 per student depending on residency, can be spent on approved instructional costs, tutoring and fees for various exams in addition to private school tuition.
In addition, the law also extends eligibility to homeschooled students, who would be classified separately from those whose families choose not to participate. Participating families would be under a "personalized education program" and would have to submit to an annual "sworn compliance statement" that would include various requirements such as taking a nationally norm-referenced exam or statewide assessment and report the results to the school choice funding organization.
(Step Up For Students, which manages the majority of state education choice scholarship programs, hosts this blog.)
The law removes the cap on growth for the Family Empowerment Scholarship for students with Unique Abilities and increases funding to eliminate the wait list, which currently stands at more than 9,000. That means a lot of parents having to tell their kids, 'No," Renner said.
"We will never have a parent have to say that ever again," he said Monday.
Renner also said parents have the right to send their children to a school that represents their values.
"We don't want your child to go to a school where their values are mocked and held up in derision," he said during his remarks.
Tuck and Simon both praised the new law for empowering parents to control their children's education.
Tuck said Florida has always "put parents in the driver's seat."
"But today, we keep parents in the driver's seat by making sure that every family and every student is empowered to receive the education choice they deserve."
Simon said of the 25 or so bills he filed this legislative session, HB 1 meant the most to him personally. He shared his personal story about how while growing up in a poor area of Pompano Beach before education choice was possible, his mother exercised it by using her work address in order to get Simon into a high-performing district school.
"That's the story I've told; that's the live I've lived; that's the passion that I approached this bill with," he said. "I wanted to ensure that every family has the same opportunities regardless of what ZIP code they lived in."
Students and families also shared their stories about the role education choice played in their lives and thanks the governor and legislature for making it a priority.
"When people say school choice doesn't work, I simply show them my family," said Hera Varmah, who with nine of her 11 siblings received Florida Tax Credit scholarships. She two of her siblings became engineers, and she became an advocate for the American Federation for Children, a national nonprofit education choice organization.  "This is the power of giving a child an education that fits their needs.
Aimee Uriarte, a single mom whose two sons attend Columbus High on state scholarships, and Rachel Hayon-Sabbah, who has two of four daughters on the unique abilities scholarship program,  thanked DeSantis and legislative leaders for expanding program eligibility to all Florida families.
"This legislation will cause the Unique Abilities waitlist to vanish and allow nearly 10,000 special needs families to get the funding they need," Hayon-Sabbah said. "And families in the Tax Credit and Education Options scholarships will now have the ability to spend their program funds in ways that they can better tailor their children's education to fit their individual needs."
Besides expanding options for students, the law also helps public school districts by relaxing some regulations identified by the Florida Association of District School Superintendents.
For example, it reduces hurdles to a five-year temporary teacher certification for anyone with a bachelor's degree and for those with two years of effective or highly effective service. It also provides flexibility to school districts in setting salary schedules.
The law repeals the requirement that public school students have one online credit to graduate from high school, which is not currently required in private schools. In addition, the law also offers districts flexibility in facility costs for new construction and allows school districts to transport students in large vans as opposed to school buses if needed, which is expected to help school districts struggling with bus driver shortages.
"Universal choice means every school has a chance to compete for students, and parents can decide the best fit," Senate President Kathleen Passidomo said. "That means also public schools can complete. The bill takes the first steps to make that happen. That's a little part of the bill that should not go unnoticed."
As part of the new law, Florida Education Commissioner Manny Diaz Jr. and the state Department of Education will meet with public school leaders to revise the state education code and target which rules should be eliminated or changed.
Funding for the new law, which takes effect July 1,is expected to be worked out in the state budget as each chamber works to reconcile differences in their own versions.
Diaz said HB 1 shouldn't be viewed as Florida, which adopted education choice policies years before most states did, as regaining the lead in that area.
"We never lost the lead," he said. "We're the reigning champs."