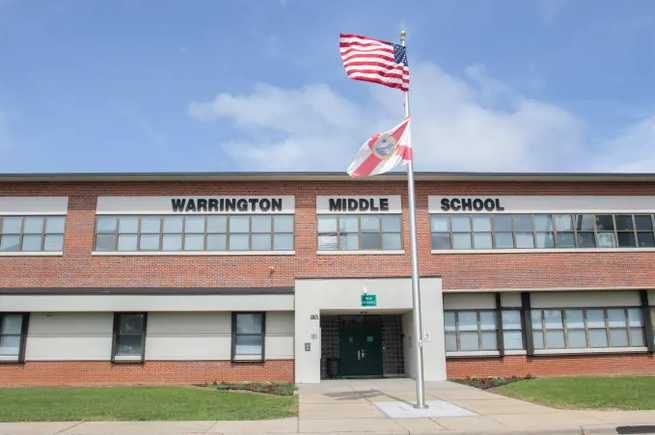 Get it done. Now.
That was the firm directive that the Florida Board of Education gave Wednesday to Escambia County School District leaders who have yet to finalize a deal with a charter school company to take over struggling Warrington Middle School.
"I'm trying to contain the level of frustration that I have right now," said Education Commissioner Manny Diaz Jr. "This school has been failing students for more than a decade, and it's inexcusable that we're still having adult conversations and not focusing on students."
His comments followed an update showing that despite Warrington receiving D grades from the state since 2012, the Escambia County School District still has not finalized an agreement with Charter Schools USA to assume operations in 2023-24.
The state board said the school must be closed or turned over to a charter school partner if it did not receive at least a C grade. After a pandemic hiatus in grading, Warrington received a final grade of D in 2022. The state board then ordered the school closed or turned over to a charter for the 2023-24 school year.
District officials began negotiating in November with Charter Schools USA, which serves 75,000 students in five states. The 26-year-old charter school operator was the only organization to express interest in taking over the Title 1 school, where 80% to 90% of its approximately 600 students live below the federal poverty line.
The parties appeared to be headed toward a May 1 deadline to forge an agreement. However, negotiations hit a snag when district leaders said at an April 13 school board meeting that Charter Schools USA had sent a list of conditions for it to make a long-term commitment to the school.
Terms included a 15-year year contract between the district and Charter Schools USA and a 30-year contract with Charter Schools USA for control of the facility, with the charter organization paying the district $1 per year.
Additionally, new grade levels would be offered each year for the first four years under their control. Some of the grade levels would be zoned for the children living in the Warrington area, while others would be open to all students in the county. By the 2026-27 school year, Warrington would be a choice school for grades K-10, with no zoning.
School Board members expressed concern that a conversion to open enrollment would leave area students without a zoned neighborhood school, requiring them to be bused elsewhere.
Members also expressed concerns that handing over facility control for 30 years could put a future school board in a challenging position, especially because district school construction must meet state hurricane shelter standards. They further said they didn't want to saddle a future board with debt if the charter company decides to leave.
Yet another concern was that Charter Schools USA had not submitted an application spelling out details of school operations.
Escambia Chairman Paul Fetsko assured state board members that the district is not anti-charter and sponsors nine "really good" charter schools.
"Our students are our number one priority," he said. "We want them to learn wherever they can best be served. We want to work with Charter Schools USA, but the last-minute non-negotiables have been extremely difficult."
However, Escambia school leaders garnered no sympathy from state officials, who called the concerns "excuses."
Diaz said that as a state lawmaker, he included language in a bill that gave school districts flexibility from shelter requirements if the community already had enough shelter space so that should not be a concern.
State board Vice Chairman Ryan Petty criticized the district for expecting an application from Charter Schools USA, which it approved as a partner in the fall.
"So, you picked them and now you're asking them to jump through bureaucratic hoops of an application? What's the point?"
Petty said that during a tour of Warrington, he peeked into an eighth-grade classroom where algebra books sat on a shelf while a teacher's lesson focused on basic arithmetic.
"You've been failing these students for over a decade," he said.
Board member Esther Byrd said given the school's poor performance, "Can you currently say to the parents of the children at Warrington Middle School that they're succeeding, and they're being taught because these numbers don't say that. I don't see how another option can be worse than what we have right now.
"This board has expressed a balance of urgency and grace, and I just want to say that as far as I'm concerned, we're done with grace. So, we've got to get this done."
Smith said the district is working hard to strike a deal.
"We're not arguing; we're not making excuses. What we're saying is we need help getting this agreement across the finish line."
State Board Chairman Ben Gibson called the repeated failure at Warrington "a bad dream" and said the district has little choice but to accept the terms.
"We've been desperate to get a charter operator in there," he said. "Compromise is really the only option that we have. You don't have a lot of negotiating power here."
Charter Schools USA officials did not attend the state board meeting. However, Eddie Ruiz, the organization's state superintendent, issued the following statement Wednesday to reimaginED:
"We were honored to be asked by the Escambia County School Board for help to turn around Warrington Middle School, which has been failing for decades. When we evaluated the significant problems at the school, we came up with a plan that points to the greatest opportunity for a successful turnaround.
"Unfortunately, the board found the terms to be unacceptable. We know what it takes to turn around failing schools, and we can implement those changes if we are given the ability to make them. One thing that is critical in this process is the cooperation and support of the authorizer, which we clearly do not have at this point.
"We believe all students deserve access to a high- quality education. At CSUSA, we have a relentless commitment to student greatness in school and in life."