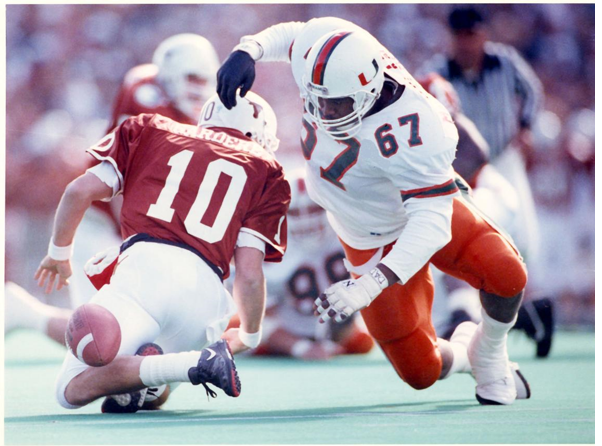 One of my darkest days as a sports fan came in January of 1991.
Mrs. Ladner and I were on our honeymoon in Paris, and I picked up a copy of the International Herald Tribune. On the front cover was a photo of University of Miami defensive tackle Russell Maryland sacking Texas quarterback Peter Gardere in the Cotton Bowl.
Beneath the photo was a game summary including a score. I blinked and put the paper closer to my eyes in disbelief: University of Miami 46, Texas 3. My No. 3 ranked Longhorns had been blown out in humiliating fashion.
The Longhorns faced Miami in the 2023 NCAA men's basketball tournament and that didn't work out for me either. What Florida has been doing to Texas in K-12 reform results, however, is worse than either of those bitter defeats.
Florida and Texas share a number of things in common; large, diverse populations, Republican state leadership, and strong economic and population growth. Both Florida and Texas have been welcoming migrants, especially from California and New York, where their numbers are declining.
The National Center for Education Statistics projects the school age population of Florida and Texas to shrink by -3.9% and -3.3.%, respectively, between 2022 and 2030. The double impact of a national baby-bust and restrictionist foreign immigration policy will challenge even Florida and Texas.
A clear advantage Florida holds over Texas lies in the modernization of public services. This began in education in both states in the 1990s. Florida, however, has gone much farther in expanding choice by embracing charter schools, statewide virtual schooling, school vouchers, scholarship tax credits and, most recently, education savings accounts.
Texas reform efforts by comparison have been timid, and it shows in crucial outcomes such as NAEP fourth grade reading: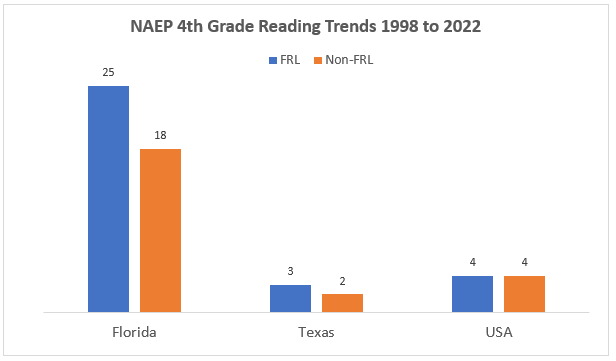 Florida's embrace of universal private choice in 2023 will simply widen this advantage further, absent action by the Texas Legislature.
Florida has all the ingredients necessary for a pluralistic and dynamic system of education in which teachers have the freedom to create their own schools and families have the ability to shape the K-12 space. The schools families are demanding will open and expand, while schools not valued by families will have fewer students to miseducate. Whether you are a liberal, a conservative, a libertarian, or a vegetarian, this is as it should be.
Together, teachers and families will serve as the two hands of a potter at a wheel, shaping the future of Florida education. Texas lawmakers are two-and-a-half decades behind Florida in this endeavor. Texas families are still largely herded to public schools by their ZIP code.
You can see how this is working out for Texas students in the chart above. Meanwhile, Florida has embraced a dynamic future. Will Texas move beyond an antiquated past?
We'll soon have our answer until 2025 from Texas.