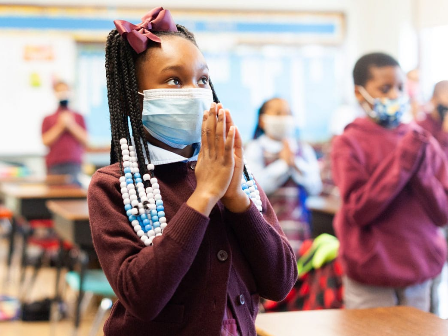 Editor's note: This article appeared last week on the philadelphiacitizen.org.
When Tammie Tilson was growing up in Mt. Airy, her father insisted she attend a private Catholic school through eighth grade. After that, she could choose if she wanted to go to a public or private high school.
She chose public. More than a decade later, she still questions that decision. In some classes, books were in short supply, requiring students to share. A college-prep math course began with concepts she'd learned years earlier. Her new classmates seemed more likely to disrespect teachers and fight in class than her old schoolmates.
Now a parent, Tilson said that experience, combined with her strong faith, are the primary reasons she wanted her three children to attend Catholic schools. She and her husband wouldn't be able to afford that without yearly financial support from the non-profit Children's Scholarship Fund Philadelphia.
"A lot of people say, 'I can't afford Catholic school,'" says Tilson, whose three children attend St. Raymond of Penafort Catholic School. "I say, 'Me either. But I am here. Let me tell you how. '"
CSFP is about school choice, but not the type of school choice that's in the news again after Florida Gov. Ron DeSantis last week signed a universal school choice law. CSFP exists to help families who want to send their kids to private schools but won't be able to do so without financial assistance. It's funded by two state tax credit programs.
"We try to stay in the lane of helping families who raise their hand and say, 'I want something different.' Right now, I don't see my neighborhood school as an option for my child," CSFP President/CEO Keisha Jordan says. "We support families who, without us, would have no other option."
To continue reading, click here.