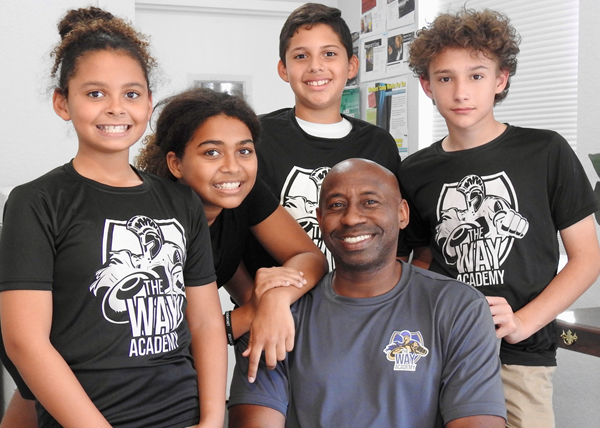 MINNEOLA, Fla. — The way Charles Williams sees it, if the human vessel comes to the conversation with humility, faith and willingness, the Almighty can communicate a message of divine purpose without resorting to special effects.
Sometimes — because God often whispers, Williams notes — all that is required is some contemplative quiet, especially if it can be managed during a season in which miracles are acknowledged and anticipated.
So it was, five winters ago, having listened carefully in the silent space between the hurly burly of Christmas events, an idea manifested itself. Too unpresuming to imagine he'd conjured it on his own, Williams is certain beyond debate divine intervention was afoot.
He brought the news to the extended family's Christmas table and broke it gently, as you sometimes do when you're about to ask your family to act boldly on God's will. "What if we started a school?" he said. "How would it be?"
There are plenty of teachers in the Williams family, wife Betsy among them. As she recalls, "We all laughed. 'We can't start a school! How do you even do that?"
Now they know.
As the freshly minted principal of Real Life Christian Academy in nearby Clermont (after 17 years working up the public school ladder), he found himself in the right place to grasp the operations of a Christian school.
Also, he studied. It turns out there's plenty of how-to information about school startups. The Florida Department of Education even has a webpage entitled Opening a Private School. Eventually, Williams found his way to the Drexel Fund, a Seattle-based nonprofit venture philanthropy that (from its website) "seeds new school models, scales networks of existing schools with a track record of academic and operational excellence, and strengthens the educational ecosystems needed to create the market conditions necessary for new private schools serving low-income students to thrive."
When Drexel came on board, solving the puzzle of startup financing, things began to happen fast. Now, here we are, at an open house on an April Monday, and Williams is expounding on His vision — the capitalization intentional.
"The math, the science, the [English language arts], history … all will be coming from the Bible and being taught by Christian teachers and Christian leaders."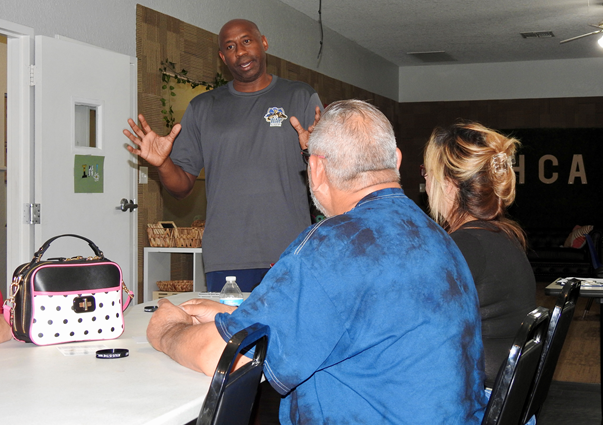 Come August in Minneola, a small town northwest of Disney World, the vision planted in Williams' obedient head is scheduled to become manifest when The Way Academy reopens the doors of the former New Hope Christian Academy.
The location, near the highlands of the Lake Wales Ridge, is appropriate. Williams and his board members mean to reach for heights of biblical proportions.
One would expect nothing less from a school designed to live out John 14:6, in which Jesus tells the disciples, "I am the way and the truth and the life. No one comes to the Father but through me."
"Everywhere we turned, John 14:6 kept coming back," Williams says. "We go to church and the preacher's preaching on it. And we say, 'This is it. The Way Academy. Showing kids, showing parents, showing the community, showing teachers, The Way. … And we're going to be warriors about it. That's who we are, the Warriors."
Appropriately, Williams shares his name with the British poet, novelist, theologian and Inkling, a member of the Oxford Christian literary society that included C.S. Lewis (Chronicles of Narnia) and J.R.R. Tolkien (The Lord of the Rings). Appropriate because, like the Williams of Lake County, England's Charles Williams was an out-of-the-box risk-taker.
The founder and first TWA headmaster, Williams didn't need a new job. The Orange County School District had recruited him out of Real Life Academy to become its dean of students for the Orange County School District, meaning his professional future and, not insignificantly, retirement pension, were utterly tidy.
Now, brandishing a rich and varied academic background — from band director to teacher to coach to principal — to the task at hand, he's left the secure nest and climbed out on that proverbial limb.
Parents who came to know him during two years he served in the administration of nearby Real Life Christian Academy are eager to join him on the bough.
"We called him 'The Ghost,'" says Rosa Albalate, whose son Christian Ruiz, 11, is a prospective TWA student. "You could never find him in his office. He was always out with the kids. On the playground, in the cafeteria, in the hallways, in the classrooms. And the students loved it."
Williams means to infuse the new school with a similar peripatetic spirit. A typical TWA day will include the usual middle-school shuffling among classrooms for various subjects, but also morning stretching and afternoons devoted to interscholastic sports.
And they'll travel around Minneola's cozy confines to use athletic and other extracurricular facilities offered up by the city, the YMCA, and a charter school.
Not that anyone involved doubts the difficulty of climbing their personal Mt. Ararat.
"Nobody wants to be in middle school these days," Betsy Williams says. "Nobody wants to teach there, nobody wants to head it up. It's hard to be a middle school parent. We know that middle schoolers go through a lot, even in general, now adding what they're going through" — here she punctuates with air quotes — "these days."
"So, we're excited to be a school that commits to those kids."
The excitement isn't just infectious. It's kinetic. Parents at the open house positively vibrated with enthusiasm.
"We're looking for something a little smaller," says Linette Bolanos, whose 11-year-old son, Aleksei, is set to transfer from Real Life Christian and its nearly 500-student K-12 campus. "Something family oriented that's focused on Jesus."
TWA ticks every box. TWA plans to limit first-year enrollment to 65 students across three middle-school grades. Parents and siblings will be invited to participate in a variety of TWA activities. And the Bible-based curriculum, stressing critical thinking and practical learning, comes straight from Bob Jones University Press — the same BJU that counts evangelist Billy Graham and former Arkansas Gov. Asa Hutchinson among its alumni.
"We're interested in a school that has a background in faith, a school that provides spiritual guidance," Albalate says. "Dr. Charles promised he will keep on it."
Williams is big on standing by vows, including the one, shared with the Drexel Fund, about making the school affordable for low-income families. Excitement attends Florida's massive expansion of school-choice opportunities through legislation signed by Gov. Ron DeSantis March 27. Moreover, through its close alignment with Step Up for Students, the school is acting to bridge the gap for families who may need a boost beyond the state's per-student stipend.
That worry largely settled, TWA organizers can concentrate on what they've taken on.
Asked to enumerate TWA's biggest challenges, Betsy Williams pulls a face. Several seconds pass. More air quotes. "These days," she repeats. She'd rather talk about TWA's opportunities, which come rapid-fire.
"To spread the Gospel is the biggest opportunity we have, and that's what we're called to do," she says. "The next is to inspire kids in a way of healthy choices and getting moving in a world where all they want to do is look at a screen.
"The third opportunity is … to be a light in the community. We're excited about all that."
This is The Way, then. The Warrior way.