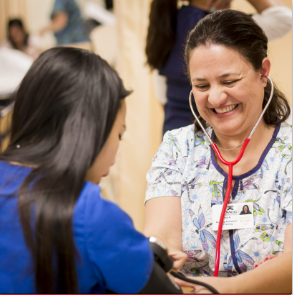 Editor's note: This article appeared Monday on in.chalkbeat.org.
Loriann Beckner can't imagine the idea of going to nursing school without her internship. A senior at Southwestern High School in Shelbyville, Beckner interns at a hospital, Major Health Partners, through the work-based learning program at Blue River Career Programs.
Working with Blue River instructor Ray Schebler, she's learned about financial literacy and career development skills that she says she would not have learned otherwise, in addition to what she learns at the hospital.
"He's taught me how to do interviews and so [much] workplace learning stuff that my high school never would've taken the opportunity to teach me," Beckner said. "I just think without my internship, I'd be super scared."
But the future of Blue River — one of 52 career centers across the state that offers high schoolers academic credits, industry certifications, and more — has been thrown into doubt this year after Indiana lawmakers enacted a law that creates Career Scholarship Accounts.
These will provide funding for students to pay for internships and apprenticeships with local employers without necessarily relying on current career and technical education programs.
GOP lawmakers said the law, which Republicans said would be a top priority this year, will help "reinvent" high school in response to declining college enrollment and evolving employer needs. They also say the accounts will make career training more accessible.
Critics worry these new accounts will hurt programs like Blue River and the public schools that partner with them to provide career and technical training, without truly providing new or additional benefits.
The Career Scholarship Accounts are part of a push by state leaders to shift some authority and funding away from traditional public schools and educators to constituencies like parents and the business community.
To continue reading, click here.