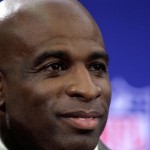 Coincidence or not, an impressive roster of superstar professional athletes with strong Florida ties have become major league champions for school choice. Tim Tebow was homeschooled outside Jacksonville. Derrick Brooks of Pensacola co-founded a charter school in Tampa. Andre Agassi, who trained in Bradenton, did the same in Las Vegas. And Jorge Posada, who lives in Tampa (or did until recently), put his name behind the Lake Worth-based Hispanic Council for Reform and Educational Options.
The latest to step up: Deion "Prime Time" Sanders, a Fort Myers native who starred at Florida State before going on to electrify pro football and baseball.
Sanders is starting two charter schools in the Dallas-Fort Worth area. The Prime Prep Academy schools, set to open this fall, will feature a technology-heavy curriculum aimed at inner-city kids.
"It's been a 3-year process," Sanders told the Forth Worth Star-Telegram Feb. 20. "Nothing I have ever done compares to this. We are going to have the best teachers and coaches. These schools will have no color and no boundaries. We plan to educate and influence kids to go and make a true difference in their community."
If there is any doubt why Sanders pursued charter schools rather than contribute to traditional public schools, the Prime Prep web site has strong words for the current state of education.
"We challenge you to not to think outside the box, but to think about the box itself," it says to prospective parents. "Who made the box that we call primary and secondary education? Why has it been broken for so long? Who said we have to keep using the same old broken box? Who is bold enough to throw out the old box and make something different? At Prime Prep Academy we have made something different and it works! We have a commitment to educating children with a passion and a skill set unlike any other. We have removed the "broken box" and replaced it with something special: an Academic Model that is uniquely focused on the most important aspect of education – your child!"
Is it any wonder that top athletes who thrived on competition think a little competition is good for public schools? Or that Sanders and the others have roots in Florida, the state that leads the nation in scoring when it comes to expanding school choice?
Coincidence or not, we're glad they're lending their names and prestige to a worthy cause.
(Image from thegrio.com)