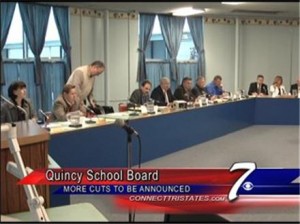 The unusual logic driving Paul Farhi's argument that media coverage is biased against traditional public schools has been examined well by several analysts, including Adam Emerson at Choice Words and Alexander Russo at This Week in Education. But as someone who spent 30 years working at newspapers in Florida, I also couldn't help notice the disconnect with the routine school coverage in local communities.
The conspiracy Farhi sees in coverage of public education ignores the general layout of newsrooms across the country. Newspaper beat structures have historically focused around the local governance of public schools. The school beat, then, is often the School Board beat, and reporters typically spend a good deal of their time at district headquarters, building relationships with school board members, key administrators and teacher representatives in order to keep abreast of important political developments.
One result of this orientation is that even the best reporters tend to view their coverage and appraisal of education issues through the lens of the school district establishment. It's what they see and hear most days.
So when a superintendent decides in a public school board meeting to brand a tax credit scholarship private learning option as a "travesty," a beat reporter takes that as a cue to report on a "double standard" that leaves a "huge gap" in the state's accountability system by "largely exempting the scholarship students and the schools they attend from the academic standards that public schools face." When a state education board overturns a school district's decision to close down a charter school, the Miami Herald school beat reporter writes from the local point of view, seeing the action as "unusual" and a "second chance" for "a school that was closed by the Miami-Dade School Board for questionable spending practices." When a school district sues the state over whether to allow a new charter school, an Orlando Sentinel beat report captures it as "opening another front in its battle with the state over the prospect of being forced to approve charter schools that it determines are unworthy to open."
The over-generalizations in Farhi's commentary made it a particularly bad fit for the American Journalism Review, which is supposed to bring professionals clear-eyed critiques of how they practice journalism. But the point here is that what Tom Brokaw on NBC or Valerie Strauss in the Washington Post say about education is only a slice of what is written and aired every day in cities across America.
Schools are local creatures, covered mostly by local reporters, and most parents get their education news from their hometown newspapers. When a local superintendent airs a particularly strong grievance about a reform he or she views as undermining the traditional institution, a reporter in that room tends to write it down and report it.
If that's biased, then it is in an entirely different direction than Farhi suggests.
(Image from connecttristates.com)