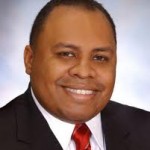 A CBS News profile last night of a Miramar, Fla. teacher is one of those powerful reminders that students draw motivation in myriad ways. One doesn't have to extol the virtues of the arts, either, to grasp how music teacher Alvin Davis has left such an imprint on the lives of his students.
Davis' story itself is an inspiration. He was born to a Mexican mother and African-American father, grew up surrounded by drugs and gangs in south Chicago, and at the age of 10 saw his childhood friend shot to death on the porch next door. But his mother insisted he succeed in school, and his parents assigned him nightly homework in addition to what he received from school. They pushed him into summer school, as well, to keep ahead of other students.
Music was natural to Davis and ultimately led him to Florida A&M University, with its nationally renowned band, where he ran out of money his sophomore year. When he returned to Chicago, Davis says his father handed him a check, which was written off a second mortgage, and told him to head back to Florida and not return without a degree.
Davis has taught now only for 11 years, but he has turned the Miramar High School band into a musical showplace and its musicians into college-bound students. What Davis brings to his students is the ethic his parents brought to him: Academic are first and there are no excuses for failure. He describes his goal as developing an award-winning, academic-based music program and he focuses on academics, discipline and musicality. Every students receives one-on-one counseling with the band staff, and Davis reviews every band member's report card and interim reports. Every after-school band rehearsal includes a mandatory one-hour study hall with tutoring, and he keeps a library of all school textbooks for students' use. To remain in the band, seniors must show proof they have registered for, or taken, the SAT or ACT. By January, they must prove they have applied to college.
In the past four consecutive years, every graduating member of the band has attend postsecondary education. Miramar High, by the way, scored an A in Florida's school grading system last year even with a student enrollment that is 97 percent minority and 67 percent on free or reduced-price lunch.
Davis' students describe him as a role model and a mentor. Enmanuel Trabal told the Sun-Sentinel that Davis helped him get into Florida A&M and was there for him when, as a freshman, his grandmother died. "He has guided me through a lot of troubles," he said.
Davis was featured on the evening news in part because he is one of four finalists for National Teacher of the Year, and he demurred when asked about the recognition. "I can tell you what touches my heart even more," he said, his eyes welling up, "when I get a kid who comes up four years after high school graduation: 'Mr. Davis, here's my college diploma.' "
Mr. Davis helps illustrate the importance of different pathways to success in both school and in life. In an education world often consumed with curriculum and test scores, let's score one for the brass section.