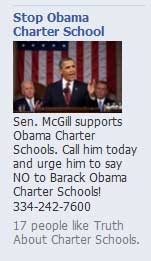 Somebody in Alabama is so desperately scared of school choice, they've launched a stealth campaign to make school choice seem scary. Their goal: to tarnish charter schools by linking them to gays, lesbians, Muslims, Democrats, abortions – and if that's still not frightening enough – to Michelle Rhee and President Obama.
The horror that would spawn such a reaction? The Education Options Act of 2012, a bill now being considered by the Alabama Legislature. It would allow up to 20 charter schools statewide (down from 50 initially) and only in school districts with persistently low-performing schools. Florida, by comparison, has more than 400 charter schools in dozens of districts, enrolling 175,000 students.
But in Alabama – one of the few states left without any charter schools – even a handful, apparently, is apocalyptic enough to throw everything against the wall. In recent weeks, somebody who leaves no obvious fingerprints has posted a series of fleeting, shadowy facebook ads designed, apparently, to make folks think charter schools are a radical, left-wing conspiracy.
Left-wing conspiracy? The darkly creative minds behind the ads should at least get credit for attempting to upend the dominant narrative about school choice – that it's a right-wing conspiracy. One ad suggests charter schools will protect gay and lesbian kids who are bullied in Alabama schools. Another says "Coming to Alabama soon: Barack Obama Charter School. Support our President and Charter Schools."  Yet others raise the specter of Muslim charter schools  – and we all know what that means, don't we?
"If you believe the advertising on Facebook, Gay/Lesbian and Muslim matriculation will be what Alabama parents have to look forward to if the Education Options Act of 2012 becomes law," Bill Britt with the Alabama Political Reporter, an alternative online news source, wrote recently. "This seems silly on its face but it is nevertheless effective in inciting fear and prejudice."
"I am not sure of the statistic but Muslims, homosexuals and the current President are not among the most popular folks in Alabama," Britt continued. "But the lie here is that you should be against school choice not because it is a bad idea but because people you don't like are for it or might benefit from it."
There's more. Britt points out another smear ad that associates Emily Schultz, an education advisor to Republican Gov. Robert Bentley, with Democrats, gay rights, abortion and Michelle Rhee. "There has been no hint of left-wing agenda on her part," Britt wrote. "This is pure political execution of the most vile kind."
Who's behind the ads? Who knows for sure.
But it's hardly a shocker that some suspect the powerful state teachers union. The Alabama Education Association is the leading voice against the charter school legislation. It is clearly playing for keeps. It characterizes the bill as a Trojan Horse with for-profit companies hiding inside. "Once they get anchored in the state," Henry Mabry, the AEA's executive director, warned in a recent newsletter, "key charter proponents know there will be hundreds of these pseudo-private schools all over the place as in Jeb Bush's Florida and those unregulated 'schools' will be funded with taxpayer dollars."
None of this means the AEA is behind the ads. But as far as I can tell, the AEA has done nothing to condemn the ads or distance itself from them. I emailed the AEA communications office last Thursday evening and quickly received a reply email that said I would get a response from an AEA spokesman. So far, I haven't.
Also curious is that mainstream media in Alabama, as far as I can tell, hasn't picked up the story. In the midst of the biggest education battle of the legislative session, mysterious, over-the-top attack ads pop up on facebook – and none of the major newspapers write about it?
At least the alternative media is keeping tabs. Besides Britt's scrappy publication, several blogs have either broken or advanced pieces of the story, including some who may be skeptical of school choice. At least they have the decency to stand up when the attacks go too far. Wrote one, "Is that really the best argument they can come up with?"
(Image from leftinalabama.com)