The little school's administrative office sits above a church garage, upstairs from a make-shift hallway lined with pink sheets. It's sometimes cooled by a window-unit air conditioner. On a mid-May day on Florida's Gulf coast, the air conditioner is off, the windows are open and the office manager is explaining how fresh air jibes with the school's worldview. "We're holistic," she says.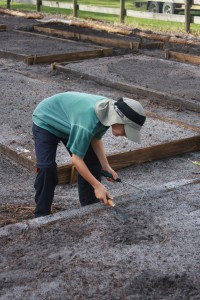 The school puts a fresh spin on modern education, too. No textbooks. No computers. No Capri Suns. In one classroom, no desks.
This is the Waldorf Sarasota. The distinctive, private school with 34 students in pre-school to fourth grade is one of about 160 such schools across the United States. The Waldorf approach defies easy labels, but it puts a premium on physical play, hands-on learning and creativity. Cooking, gardening and knitting socks are in. Testing is out.
The Waldorf way was forged by an idealistic, early 20th century vision that didn't think it crazy to put the children of cigarette factory workers and world peace in the same sentence. Today's Waldorf schools continue to intrigue because of how they approach curriculum and instruction and whole-child development.
They also stand out because they're big fans of expanded school choice.
"Private school shouldn't be elitist," said Nikosha Orchard, enrollment director for Waldorf Sarasota. "We believe Waldorf is really wonderful elementary education, so if it becomes available to more children, that's great."
The fast changing landscape of public education is dotted with square pegs.
At the risk of blatant stereotyping, let's just say Waldorf parents are more likely than most to embrace organic eggplant and backyard composters, and love that their kids spent hours at school building bamboo tee pees. They're not a demographic that meshes well with allegedly vast, right-wing conspiracies. And yet, there's Waldorf Sarasota, solidly in the choice camp. And far from alone.
Two Waldorf schools participate in Florida's tax-credit scholarship program, which is only available to low-income families. Waldorf Sarasota has eight scholarship students on its rolls. Suncoast Waldorf in Pinellas County has 19. The ranks of tax-credit schools in Florida also includes more than 40 Montessori schools (it's a safe bet some hew more closely to Montessori principles than others) and a handful of others that are proudly out of the mainstream.
"Many people in alternative education like the potential of vouchers and school choice," Jerry Mintz, director of the New York-based Alternative Education Resource Organization, told redefinED via email. (The group's slogan is "Education Revolution.") "Some people worry that they will make people dependent on the funds and then start to tell them what to do and how to run their schools. But theoretically, it could open up alternatives for children whose families couldn't otherwise afford it."
In a 2009 report, the Association of Waldorf Schools of North America called educational freedom an "imperative and noble cause." Patrice Maynard, who leads the group's outreach and development efforts, is as hard core a choice supporter as you'll find at the American Federation for Children or the Friedman Foundation. In a brief interview, she said choice supporters should remind critics that America's founding fathers weren't educated in a homogeneous system, but in a vastly diverse one that included home schools, town schools and boarding schools.
"There's this twisting that public school is American and apple pie" but private options aren't, Maynard said. "That's really not true."
A Waldorf Sarasota education isn't cheap – nearly $11,000 a year for first grade and up. But the school offers substantial discounts based on income. That's of great need to students in the tax-credit program, since the scholarships will be worth $4,335 in the 2012-13 school year. The parents who secured the scholarships include a nurse, a waitress, a dog breeder and a restaurant manager.
Marlene Panet-Raymond enrolled her 9-year-old son Andre in the school several years ago. She and her husband were checking out Sarasota prep schools when they got an invitation to visit the Waldorf. They saw kids playing violins. Kids learning multiplication tables with bean bags on their heads. Kids laughing. "These kids were loving learning," Panet-Raymond said. "I was hooked."
This was before the Great Recession pinched her husband's business as a golf instructor and – long story – their personal finances imploded. With the help of a tax credit scholarship, Panet-Raymond has been able to keep her son in the school. In the fall, she hopes her 4-year-old twins can attend on scholarships as well.
Back in a classroom, third- and fourth-graders are sans shoes. They're repeating lines of Norse poetry and doing their best to match their teacher's dramatic gestures. "Can you say it with a little flourish?" the teacher asks a reedy boy in white socks. The kid was a little wooden delivering "the apples of eternal youth."
To comply, he gets up from the floor, where all the kids are either sitting or lying down, but still learning.
(The photo, courtesy of Waldorf Sarasota, shows third-grader Andre Panet-Raymond gardening at the Crowley Museum and Nature Center. The center partners with the school.)
Update: Just so it's clear, Florida tax credit scholarship students in grades 3-10 are required by law to take an approved, norm-referenced standardized test. That includes the students at Waldorf Sarasota.