Some of us at redefinED will be at the American Federation for Children summit tomorrow and Friday, where there will be lots of discussion about school choice and education reform. As good a time as any, we thought, to offer a snapshot of where Florida stands. Check out these numbers, which Doug Tuthill, the president of Step Up for Students and a redefinED host, shared last week with business leaders at a Leadership Florida event: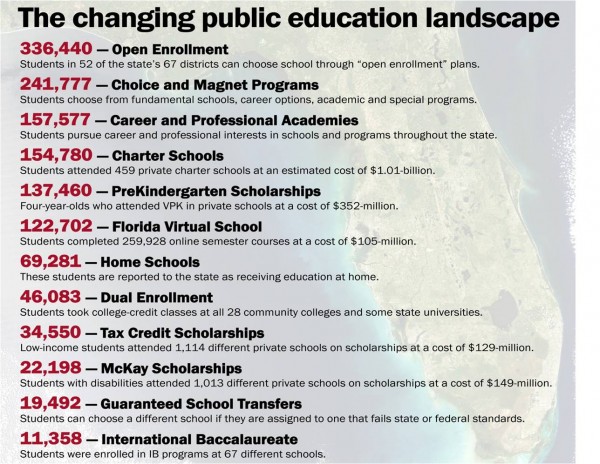 The numbers (carefully compiled by Jon East, vice president for policy & public affairs at Step Up) are from 2010-11 and we know in many cases the current figures are even higher. Charter school enrollment, for example, topped 175,000 this year, and the tax credit scholarship program serves more than 39,000 students. Altogether, the numbers underscore two things we emphasize at redefinED: School choice – the kind that allows parents to go beyond their neighborhood school – is becoming mainstream in Florida. And the lines between "public" and "private" are more blurred here than in any other state.
The AFC conference agenda includes Louisiana Gov. Bobby Jindal, New Jersey Gov. Chris Christie, Newark Mayor Cory Booker and an all-star line up of choice experts and advocates. We're hoping to have a little time to update you on what's going on with blog posts and tweets. For the latter, follow us at @redefinEDonline.