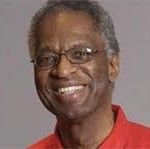 When Indiana's celebrated state superintendent of instruction, Tony Bennett, spoke in support of universal vouchers at last week's American Federation For Children summit, the panel's moderator did not sit quietly. After all, just last year, Howard Fuller (pictured here) fought legislative attempts to include high-income families in a Milwaukee voucher program he helped create for poor children. Of the prospect of universal vouchers in Wisconsin, Fuller proclaimed, "That's when I get off the train."
So Fuller, a legend in the school choice movement, politely invoked "the moderator's privilege" after Bennett spoke. And he was characteristically blunt.
"The thing that I most worry about is that people will forget the importance of protecting poor people in this," Fuller said, before adding a few sentences later, "I just want people to know … when folks move towards universal (vouchers), just know that some of us are going to fight it."
The world of school choice is more textured and dynamic than it's portrayed. It's not a monolith. It's many camps, with overlapping but not always consistent visions. For the most part, those differences were glossed over at the AFC summit, and for good reason. The summit was a fitting celebration of recent victories. It was rightly punctuated by moving speeches from New Jersey Gov. Chris Christie, Louisiana Gov. Bobby Jindal and Newark Mayor Cory Booker.
But the differences are there. And beneath the surface, some tensions too. Fuller has drawn a line in the sand before, including in this podcast interview last year with former redefinED editor Adam Emerson. Here are his latest remarks in full, as best as I could hear and transcribe them:
The thing that I most worry about is that people will forget the importance of protecting poor people in this. Because one thing I found about movements, and particularly as we begin to talk about we got to protect the middle class – all of which I'm not opposed to – what I learned over time is that there's not some group of people, and I hope BAEO is going to at least be that group, that consistently and unapologetically says we're in this to protect the interests of a lot of the poorest people.
Because I found that if that doesn't happen, that somehow their interests will be put aside. And we get all kinds of reasons why and this and that. So I just want people to know … when folks move towards universal, just know that some of us are going to fight it. And we're going to fight it because our history has taught us what happens when you establish a program that's allegedly for poor people and then all of a sudden we all got to get in it and this and that and all lifeboats get lifted and this and that. I have found that all the life boats don't get lifted.
And so I just want everybody to be clear that there's some of us in this room that will never give up on the notion of standing for the poorest people in our society. And we will not let people just lightly go on as if America has proven that it cares deeply about the poorest people. Because to me the opposite is true.
That's the thing that worries me about this movement and it's something people don't always like to hear. Why is he saying that? I'm saying it because I just want people to be clear where we are. And why we are where we are. Because every day, I see our poorest children dealing with issues that most of us will never even contemplate, let alone live.
And when I see these arguments that Diane Ravitch – Diane Ravitch and I were on a Twitter war for about an hour the other, a few weeks ago. And the issue was, we were making this comment about poverty should not be an excuse for not educating our kids. And her thing back to me was, poverty has a huge impact on children's lives. My thing was, when did y'all figure that out? Is this like some breaking news or something? No seriously. My mama and grandmama knew that. I mean, we all know that. The issue is not allowing that to be an excuse not to educate our children. Only a fool would say that poverty has no impact on what happens to these families.
And the lesson for a lot of us elected officials and stuff in this movement … you can't vote against the minimum wage, you can't vote against health care, you can't vote against housing, you can't vote against every single thing that helps the children's families and then say, 'But I support vouchers so I'm with you.' It doesn't work like that. Because at the end of the day, all of these things affect our children, and their families, and it impacts on their ability to come to school in a capacity to even be able to learn.
So we got to see all of these things as being tied together. And if we don't, then you're going to continue to get pushback … Some of us in this fight, for whatever push back we get, some of us in this fight – and I'm going to be one of them – have got to keep raising that issue day after day after day after day.