The headlines covered Gov. Chris Christie's passionate call for education options in New Jersey, but the fine print here was equally edifying. In papers and workshops presented Thursday afternoon at the American Federation For Children's Annual Summit, the policy message was unambiguous and remarkably consistent: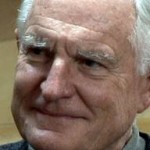 All learning options must be scrutinized and must measure up.
Craig Barrett, the former chairman of Intel Corp. (pictured here), may have most succinctly summed up the discussions of accountability for charter schools and private learning options. 
"We have to be willing," Barrett said, "to shut down schools that aren't working. We have to be ruthless, and I'm hopeful we'll have enough pragmatism to do that."
Summit participants were also handed a three-page document from AFC that described various academic, financial and administrative accountability provisions as essential ingredients to "ensuring the highest level of program quality and sustainability." 
"Not only are transparency and accountability smart public policies," the document stated, "but they provide the school choice movement with readily available data and information to improve programs and illustrate the success of those programs."
AFC has gone so far as to rate the strengths and weaknesses of voucher and tax credit scholarship accountability provisions in 26 different programs across the country. And it didn't pull many punches. For example, it ranks Arizona's "Empowerment Scholarships" as measuring up on only two of eight broad accountability measures.
These proclamations won't end the division over how to measure success, of course, but they demonstrate a policy maturity that is beginning to draw a sharp contrast with some of the opponents of charter and private options – including the New Jersey teachers union with which Gov. Christie is at war. Just as it would be untenable for proponents to reject any public oversight and rely only on market mechanisms, it is also unpersuasive for opponents to argue that every option must be regulated in precisely the same way.
(Image from podtech.net)