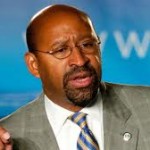 It's getting harder and harder for critics to torpedo education reform ideas like the "parent trigger" by distorting political affiliations. The evidence just keeps getting in the way.
The latest example is what happened at the U.S. Conference of Mayors meeting in Orlando last weekend. With prominent Democrats leading the charge, the mayors in a voice vote unanimously endorsed parent triggers, which aim to help fed-up, low-income parents turn around struggling schools.
"Too many districts," their resolution said (go to page 169), "continue to turn a blind eye toward some of the worst performing schools … "
Now, whatever you think of parent triggers as a school-improvement tool – and there's plenty of room for fair-minded debate here – it's undeniable that critics have gotten considerable traction by portraying the notion as conservative, corporate, far-right and Republican. This was especially true in Florida. Parent trigger legislation was narrowly defeated in March after weeks of being caricatured as another sinister device for Jeb Bush, the Koch brothers and the American Legislative Exchange Council to mine billions of dollars from the privatization of public schools. (If you think my description is over the top, please watch this video.)
It's true a lot of "conservative" ed reformers like the idea of a parent trigger. But it's true, too, that the idea of giving low-income parents leverage and options, including the possibility of converting their schools into charter schools, has roots in "liberal/progressive" circles. (My apologies for the air quotes; after covering education in Florida for eight years, the labels just no longer make sense to me.) The sponsor of the original parent trigger bill in California, former state Sen. Gloria Romero, is a Democrat. Ben Austin, who heads the Parent Revolution group that is pushing the idea from state to state, is a former staffer in the Clinton White House. Rahm Emanuel, the former chief of staff to Barack Obama and now mayor of Chicago, is a fan, too.
All that wasn't enough to scrub the perceived partisan funk off the Florida bill. But all indications are that it will resurface next spring. And maybe last weekend's vote will help it be judged on its merits rather than its alleged lineage.
Three big-city Democrats – Philadelphia Mayor Michael Nutter (pictured above), Los Angeles Mayor Antonio Villaraigosa and Sacramento Mayor Kevin Johnson – were out front on the resolution. And scores of other Democratic mayors were in attendance, including some from Florida. If they had objections, they didn't raise them.
Unfortunately, as far as I can tell, no news media in Florida covered this development. And but for this one exception (which I respectfully think missed the mark) no Florida newspapers followed up on the lone story or at least blogged it for the record. I think that's odd, not only because the parent trigger was such a big deal during the legislative session but because it raises obvious and compelling questions: Why did all those mayors, especially the Democrats, vote for a resolution that puts them at odds with their local teachers unions and PTAs?
Maybe they weren't paying attention. Or maybe, like many low-income parents, they're just tired of waiting.
(Image from thegrio.com)