There's no doubt parents are exercising school choice in growing numbers. But teachers and principals, too, are increasingly taking their talents to classrooms beyond traditional public schools.
Yvonne C. Reed-Clayton, 73, of St. Petersburg, Fla., was ahead of the curve.
In 1996, she retired after 34 years as a teacher and administrator in the Pinellas County school system, one of the biggest in the nation. Days later, she became head of a new private school, and two years after that, founded her own.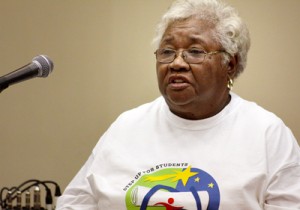 The reason was simple, she told redefinED. She wanted to help struggling students, particularly black males. And in a private, religious school, she had access to tools – Bible lessons and "prayer corners" among them – that weren't available in public school.
"If a child was doing something, I'd say, 'Remember this Bible lesson we had? If Jesus came here right now, do you think he would be happy with you?' " Reed-Clayton said in the podcast interview attached below. She continued: "I'm receiving a lot of children in my private school, coming from public school, who were discipline problems. But after I got them, they weren't. They changed."
Reed-Clayton's no-frills school in the economically depressed Midtown area is highly regarded, with a reputation for especially good results in reading instruction and parental engagement. Last year, 61 of 85 students used tax-credit scholarships available to low-income families; 11 used McKay scholarships for students with disabilities.
This week, Reed-Clayton is retiring for a second and final time. To mark the occasion, more than a hundred parents, teachers, former students and community leaders will honor the diminutive, beloved "Ms. Reed" with a party befitting someone who was in the vanguard of the most sweeping educational changes of the past 50 years.
After attending segregated schools in St. Petersburg and Greenville, Fla. (where blind phenom Ray Charles was a playmate), Reed-Clayton was among the first black teachers in Pinellas to teach in desegregated public schools. Even now, as a school choice pioneer, she continues to count herself as a supporter of public schools.
"We have to do what fits for the parent and the child," she said. "If it's public school, go to public school. If it's private school, do that."
Podcast: Play in new window | Download