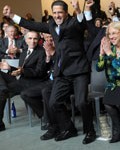 More Broad Prize coverage. As we noted yesterday, the Miami-Dade school district won this year's Broad Prize, which goes to the urban district with the most academic progress. More from the Orlando Sentinel, Christian Science Monitor, Associated Press, Education Week. The Palm Beach school district was a finalist, which is also impressive. All this is more reason to routinely compare achievement data district by district in Florida. Also worth noting: Miami-Dade is a poster child for the new definition of public education, with a broad menu of learning options and huge numbers of parents embracing them.
Charter school issues in Volusia. The Volusia school board approves improvement plans for two F-rated charter schools, reports the Daytona Beach News Journal.
PTA doesn't like it. The Florida PTA pans the Board of Education's decision to set steeper improvement goals for low-income and minority students, reports the Gradebook blog.
More on Amendment 8. The Tampa Bay Times gets credit for going into detail about the legal case that's at issue here – a case that has nothing to do with vouchers. ICYMI, our take on Amendment 8 here and here.
So the Democrat supports vouchers? In this state senate race in Central Florida, yes, notes the Orlando Sentinel.