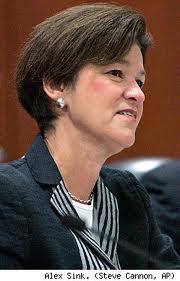 Who may run against Rick Scott. According to Florida Trend, at least six challengers are already lining up: Nan Rich, Alex Sink, Dan Gelber, Buddy Dyer, Jimmy Morales and Charlie Crist. Rich, Sink and Gelber have taken strong positions against many of Florida's ed reforms, while Crist of course vetoed Senate Bill 6.
More fallout from charter payout. For charter school opponents, the $519,000 payout to the principal of a failed Orange County charter is the gift that keeps on giving. "School boards would face public rage for even proposing such pay," editorializes the Bradenton Herald. The original Orlando Sentinel story also gets posted on the Atlanta Journal Constitution's Get Schooled blog. Georgia is in the middle of a big fight over a charter school amendment to the state constitution, and the Orange County case is cited as an example of what happens when oversight is lax.
Virtual expansion. The Marion County school district opens its first online elementary school, reports the Ocala Star Banner.
Taking aim at parent trigger. "The biggest lie about 'parent trigger' is that it is about parents," writes a member of Florida's Fund Education Now in the U.S. News & World Report.