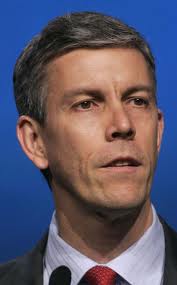 The next few years are critical for education reform, with the implementation of higher standards likely to put tremendous pressure on political leaders to abandon course, U.S. Education Secretary Arne Duncan said Wednesday.
"The idea of implementing higher standards, the adoption in 46 states of higher standards, is clearly a huge step in the right direction. (But) that's the easy part," Duncan, referring to Common Core standards, said at a national education summit organized by Jeb Bush's Foundation for Excellence in Education. "Will our political leaders have the courage when test scores drop 20, 30, 40, 50 percent? … Will they have the courage not to backpedal and dummy down standards like political leaders did under No Child Left Behind?"
Despite the challenges, Duncan said he was optimistic that state and local leaders would rise to meet them, and in bipartisan fashion. He pointed to recent reforms as proof.
"I'm actually extraordinarily hopeful," he said in response to a question from moderator Andy Rotherham. "When I look at what states did, local legislative leaders, chief state officers, what they have done over the past couple of years, no one predicted that would happen. No one predicted that 46 states would adopt higher standards. No one predicted that three dozen states have taken teacher evaluations and principal support to a very different level. No one predicted that we would have 44 states working on the next generation of assessments. Frankly, we've had almost no rollback. And honestly, if a couple states choose to roll back, that would not be the end of the world."
Duncan was a keynote speaker at the fifth annual summit, which drew about 800 participants from nearly every state. He made a pitch for continued investment in early childhood education and stressed teacher quality and teacher equity. He said the fact that not a single district has methodically moved to align its best teachers with its most struggling students is a sign of how far reformers have yet to go.
"If we're serious about closing achievement gaps, we have to close the opportunity gap. And I'm looking forward to serious ideas from the states, or from districts, who are, on a systemic level , going to find their hardest working, their most committed human capital, their talent, and place them with the children who need the most help. There are a couple of places that are tinkering with this around the edges. But the fact that we don't have one that's doing this out of 15,000 (districts) shows to me that we're not even in the game. We're not there yet."
Duncan's answer to another question suggested how much reformers remain divided over school choice, particularly private options. An audience member noted that both former Secretary of State Condoleezza Rice, a Republican, and former New York City schools chief Joel Klein, a Democrat, said at the conference that expanding school choice was the single lever most likely to speed the pace of reform. She asked Duncan what he would do to challenge states to expand options.
"I would sort of push back against the one thing," Duncan began. "Part of our challenge in education is we look for silver bullets. This is really hard, complex work."
He proceeded to say that if he had to choose one reform area to focus on, it would be elevating and strengthening the teaching profession.