They're one of the first things people notice when they walk inside the new Brooks DeBartolo Collegiate High School in Tampa.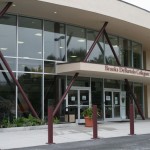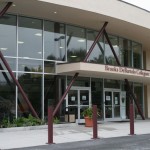 Windows, everywhere.
Inside the 67,000-square-foot renovated building, light pours in through an expansive curved entryway, between the cafeteria and lush outdoor dining area, inside classrooms and even along the second-floor hallway, where students can peer down into the giant gymnasium.
Compared to the charter school's first digs, a cramped old Circuit City it leased for five years, "this is such a change of environment,'' said Principal Kristine Bennett.
For its new home, the school's foundation spent $15 million outfitting a former church with 20 classrooms, two computer labs and a media center. There's a cafeteria with a LED-powered vending machine offering gluten-free snacks, and a full-sized gym featuring one wall with a painting of a fiery red and orange Phoenix – the school's mascot.
The striking makeover is fitting for a student body that has undergone its own metamorphosis.
Three years ago, the state gave Brooks DeBartolo a "D'' grade for academic performance. The school, which garnered a "C'' the year before, faced losing its charter.
One of the school's founders and financial backers, Derrick Brooks, the legendary former linebacker for the Tampa Bay Buccaneers, vowed his namesake school would work harder. And it did. The next year, it scored six points higher than the state required for an A grade.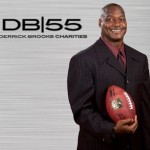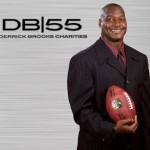 Today, students are attending an "A'' school for – hopefully, say administrators – the third year in a row.
"We won't know until maybe next month,'' Bennett said.
That's when the Florida Department of Education is expected to release high school grades based on the Florida Comprehensive Assessment Test and other measures.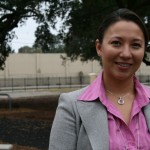 A tougher FCAT this year might mean a "B'' for her new school, said Bennett,  who came to Brooks DeBartolo in 2010 after a decade at Terrace Community Middle School, another charter a few miles outside of Tampa.
But she isn't dwelling on the grade and she won't let her students, either. Last year, all 61 seniors were accepted into colleges all over the country.
Bennett points to a Washington Post analysis that recently identified Brooks DeBartolo among the most challenging high schools in America based on a rigorous curriculum of Advanced Placement, college preparatory and dual enrollment courses.
Brooks DeBartolo placed 601st out of 1,900 high schools.
"This is the school's sixth year, but a lot of families don't know about us,'' Bennett said.
The school is accredited by the Southern Association of Colleges and Schools (SACS). It has 330 students from all over the Hillsborough County school district and even some from beyond. Many participate in an elaborate car-pooling system. Some take the city bus.
About half of the student body qualifies for free- or reduced-price lunches based on their families' income. One hundred and four are on the honor roll.
Families are attracted to Brooks DeBartolo mainly for its college prep track, which lets students knock out some post-secondary courses through a dual-enrollment program with Hillsborough Community College, Bennett said.
Classrooms are wireless and most feature Promethean boards for interactive lessons connected to a computer. Students use iPads and laptops and have access to desktop computers to look at grades and for tutoring.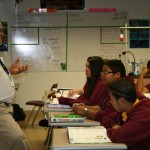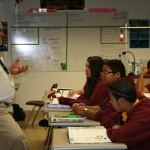 Class sizes are kept small. The schoolwide average is about 20 students per class. Schedules are block style, with four, 90-minute periods each day.
"We get to know the kids so well,'' said Bennett, a Tampa native who graduated from Academy of the Holy Names, a well-known private school.
There are all the traditional high school courses – math, English, science and history. But each class offers something unique, Bennett said.
In World History, students can sit in recliners and on couches, like they might in college. In band, they have a room with specially designed acoustics and tiered seating.
Students also participate in clubs – many created by the teens. The Garden Club grows squash, tomatoes and pineapples in boxes outside the school. The Green Club oversees a school recycling program.
Other clubs include National Honor Society, Key Club, Order of the Phoenix for Harry Potter fans, Fit Chicks for girls who like to exercise and the Japanese Club.
Becky  Groothoff, who oversees the media center, teaches the language to a growing number of students interested in Japanese anime.
"It's so popular with this age group,'' said Groothoff, a Notre Dame graduate who first taught Japanese in Australia.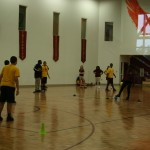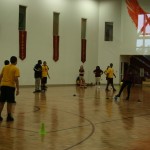 There are plenty of sports, too, including basketball and volleyball. But student athletes don't get a free pass just because one of the school's founders is a famous football player and the other, local developer Eddie DeBartolo, is a former owner of the San Francisco 49ers.
"Both founders have said that academics have to come first,'' Bennett said. "You can't have failing grades. You get benched.''
The school's board meets once a month. Some members serve on an education committee that helps shape academic objectives, such as effective writing – a declining skill among graduates in Florida and nationwide.
"All 10th-graders take a writing class now,'' said Bennett, who noted 95 percent of her students scored satisfactory or higher this spring on the writing portion of the FCAT.
"That's the beauty of a charter,'' she said.
See a need and answer it.
Correction: Brooks DeBartolo Collegiate High does not have a football program. The original version of this story said otherwise.