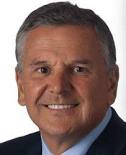 The decade-old No Child Left Behind Act is the epitome of top-down ed reform, and in some ways it parallels Florida's test-heavy accountability system for public schools. So it was noteworthy today when one of Florida's top education leaders referred to it in less than glowing terms.
Florida Board of Education Chairman Gary Chartrand said when it comes to closing achievement gaps between white and minority students, No Child Left Behind has been a "colossal failure."
Chartrand shared the sentiment during a workshop in Boca Raton where Gov. Rick Scott made a rare appearance. Chartrand did not go into detail, and we could not reach him for comment later. But he made the point during a brief discussion about the state's race-based achievement goals.
Last month, the board unveiled a strategic plan that sets different achievement goals for students based, in part, on race and ethnicity. The plan sparked accusations of racism in Florida and beyond even though the goals included steeper rates of improvement for minority students.
Scott called for the board to revise the plan, saying it "must clearly and sincerely acknowledge that all students are capable of performing at grade level regardless of their race or background."
"How are we going to close the achievement gap?'' Chartrand asked the governor Monday. "We need to do things differently.'' Maybe Florida students need longer school days, or maybe districts need to assign the best principals and the best teachers to the worst schools, he continued. Perhaps a change in culture, with more discipline and parental involvement would make a difference.
Scott, who attended the workshop to explain his education agenda, didn't offer any specific suggestions. "We should have the same expectations for every child,'' he said.
Scott also offered little detail about his new plans, which include the possibility of district-run charter schools.