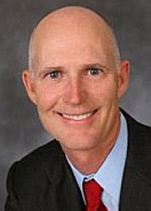 What does Rick Scott want? Orlando Sentinel columnist Beth Kassab on the possibility of Tony Bennett coming to Florida: "Indiana's loss could be Florida's gain. Then again, it will all depend on whether the state board and the governor are looking for somebody to push Florida forward or somebody to soften Scott's image on education reform. There are worrisome signs that Scott is looking for the latter." Two knocks don't make a pattern, but this is the second time in a month Scott has been criticized from the reform side.
Joining the chorus. Miami Herald columnist Leonard Pitts says the state Board of Education lowered the bar for minority students when it adopted short-term achievement goals that called for steeper rates of improvement for those students.
Tax credit scholarships and religious schools. The Orlando Sentinel takes a look at a long-established fact – the majority of students receiving tax-credit scholarships attend religious schools – and critics recycle myths about funding and accountability.
State settles with Christian college. From the News Service of Florida: "Settling a federal lawsuit that involved questions about the school's "secular purpose," state education officials will allow students at a Central Florida Christian college to be eligible for a popular grant program." Complaint here. Settlement here.
Charter school analysis. News outlets continue to highlight UCF Professor Stanley D. Smith's analysis, which finds that as a group, charter schools in Florida under perform traditional public schools. Smith writes an op-ed for the Tampa Bay Times. The St. Augustine Record uses his findings as a basis for this editorial.
Thanking teachers. In an op-ed for the Tampa Bay Times, Hillsborough school board member Stacy White says teachers should get credit for Florida's academic gains.
ESE parents mobilize in Hillsborough. The Tampa Bay Times talks to parent activists in the wake of two deaths of special needs students. Said one: "We have an innate desire to trust the school system that brought us up as kids. We want to trust them. And it's very hard for us to grasp when you get into the seedy side."