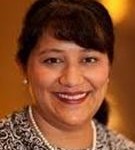 Tony Bennett's shocking loss in Indiana has highlighted a deep and long-festering rift among some ed reformers over adoption of Common Core academic standards. Some observers pinned the loss on Republicans who see Common Core as federal intrusion tied to President Obama rather than a voluntary, state-led effort – and who saw Bennett as too cozy with it.
From Florida, one prominent Common Core advocate is pushing back.
In a letter last week to the American Legislative Exchange Council board of directors, Patricia Levesque, executive director of Jeb Bush's Foundation for Excellence in Education, politely takes issue with a draft resolution that would revoke a state's adoption of Common Core. She calls the standards a "crucial foundation" for reform and says while they'll better prepare students for a global economy, they "do not dictate what textbooks must be used or how a district's curriculum should be set up."
"Resolutions like this one," concludes the letter, dated a day after the election, "draw attention and resources away from what's important – properly implementing the improved standards and working together to provide a high quality education to all students."
In a blog post two days later, Levesque is far more edgy.
Bennett lost re-election to a "coalition of reactionaries" and Common Core critics have fanned a "fog of misperception," she writes.  Referring to the group that led the charge for Common Core, she writes, "Somehow the 'National Governors Association' morphed into either the federal government, the Trilateral Commission and/or the Illuminati in the imaginations of Common Core opponents."
Florida is among  45 states that adopted Common Core standards. New tests aligned to them will be implemented in the 2014-15 school year.
The foundation's position puts it at odds with some reformers it's usually aligned with. Here is a pre-election rundown on the Common Core split from researcher Rick Hess. And here is a post-election must-read from researcher Matthew Ladner, who works for the foundation but does not support Common Core.