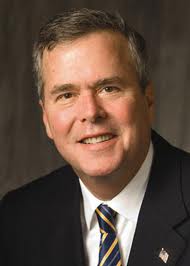 Kicking off his foundation's fifth annual national education summit, former Florida Gov. Jeb Bush stressed the usual components of his reform agenda today but also accented an increasingly big talking point: bipartisanship.
Bush said "new coalitions on the left and right" are moving to revamp teacher evaluation and compensation systems and concluded his 30-minute remarks with a lengthy homage to the leadership skills of former Democratic President Lyndon Johnson. He also noted the bipartisan backing of so-called "parent trigger" legislation, which he predicted would pass the Florida Legislature next year after failing on a dramatic 20-20 tie in the Senate last spring.
"This is one of those great places where the center, left, right coalitions of this world need to work together. And that's exactly what's happened," Bush said, singling out Parent Revolution, the left-wing group that has led the charge nationally for the trigger.
Referring to his own Foundation for Excellence in Education, which organized this week's conference, Bush continued, "We're supposed to be center-right, I guess," but "we will work with everybody to be able to empower parents who right now feel hopeless about whether or not they have any say about their children's future."
The summit has grown in both stature and bipartisanship, and this year's event includes nearly 800 attendees from 46 states. John Podesta, former chief of staff to President Clinton, is today's keynote speaker. Arne Duncan, President Obama's education secretary, will address the group tomorrow.
Bush framed his remarks about education reform and expanded school choice with concerns about declining social mobility.
"In American today, one of the most socially mobile countries in the world a generation ago, 43 percent of people born into poverty will stay into poverty. Four percent of people born into poverty will make it to the top quintile of income in our country," he said. "Where is the outrage? Where's the shame of this? This is not the America that we love. This is a dramatically changed America."
Bush also offered a strong defense of Common Core academic standards, which has been divisive in some ed reform camps. Some pundits blamed the defeat of Indiana state superintendent Tony Bennett at the polls this month on his support for Common Core.
"These are standards developed by the states … this is not top-down-driven kind of stuff," Bush said. "When people tell you that's the case, it's not true."
"The federal government jumped into the state's bandwagon, not the other way around."