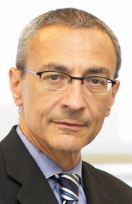 Recent election outcomes offer a snapshot of what people really think about education reform, said John Podesta, chairman and founder of the Center for American Progress. And lawmakers, advocates and opponents of school reform should all take note.
This month's stunner – the ousting of Indiana public schools chief Tony Bennett, who implemented many of the same reforms found in Florida – is proof enough that reform "is not yet on solid ground,'' said Podesta, the keynote speaker Tuesday during the fifth annual Excellence in Action National Summit in Washington, D.C.
At the same time, he noted, there are plenty of signs of progress, including historic passage of a ballot initiative  in Washington that paves the way for charter schools.
The common ground seems to be a desire to create a system that works for children, he said, and reformers should seize the moment.
"As the lines blur, the movement has to invest in collaboration … ,'' said Podesta, a former White House chief of staff to President Bill Clinton and longtime policy adviser.
"I think complete division between unions and reform is not helpful,'' he said. "We have to let this go.''
He also said reformers can't "steamroll'' measures without educating the public. "Stop just focusing on your enemy and start shoring up your allies,'' he said.
During a panel discussion with former Florida Gov. Jeb Bush, whose Foundation for Excellence In Education hosted the summit, Podesta said parents need to be motivated, to understand they can effectively change their schools.
He also called for a more vigorous role for the federal government in education reform.
Bush, though, said he supported limiting that role and cited two federal programs, Title I and Healthy Start, that are in need of major reforms. The programs need to be more focused on outcomes and need more accountability, he said.
Still, noting how President Obama's administration has been able to inject healthy competition into public education, Bush said the federal role "can be a catalyst of reform.''