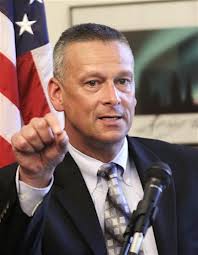 Indiana: The race for state superintendent is a referendum on the direction of education reform, including expanded school choice (Associated Press).
Florida: The state's teachers unions are among the weakest in the nation, according to a new Fordham Institute report (Orlando Sentinel). The Duval County school district agrees to settle with a proposed virtual charter school, run by online provider K12, that it had initially opposed (State Impact Florida).
Washington: Education leaders from around the state sign a letter saying they oppose the charter school initiative on Tuesday's ballot (Seattle Times).
Tennessee: Education Commissioner Kevin Huffman, also a member of Jeb Bush's Chiefs For Change, urges parents to use his state's latest education report card to ask questions and consider options (The Tennessean). Groups pushing for education reform and school choice spend heavily in campaign contributions (The Tennessean).
Michigan: Critics question the state's decision to okay new charters from companies whose existing schools are not performing well (Detroit News).
Wisconsin: One school district hopes to stem declining enrollment by expanding online offerings (Oshkosh Northwestern).
Maine: Five proposed charter schools apply to open next year (Kennebec Journal).
Georgia: A lawsuit claims language in the proposed charter school amendment is purposely misleading (Athens Banner Herald). Students from historically black colleges in Atlanta rally for the amendment (Atlanta Journal Constitution.)