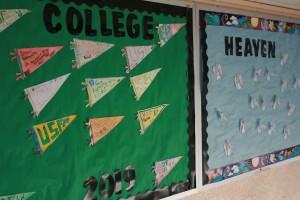 Students know their priorities the moment they enter St. Joseph Catholic School. A sign by the front door reads, "Our Goals: College. Heaven.''
Inside the West Tampa school's cafeteria, boys and girls gather for Holy Karaoke, a morning program that encourages them to dance and sing, and focus on the lessons ahead.
Cartoon pumpkins belt out "Blue Moon'' while bobbing across a giant movie screen. Sister Nivia Arias, in full habit, croons along at the pulpit before prompting her charges to recite daily affirmations.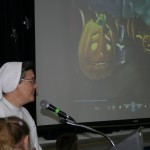 "We are active learners who do our best work every day,'' little voices say in unison. "We do the right thing at the right time."
The saying sums up the philosophy of this 116-year-old parochial school once run by Salesian nuns. It may also be prophetic.
Like other Catholic schools across the nation, St. Joseph struggles with limited resources while trying to attract students and teachers. But a new partnership with the Diocese of St. Petersburg and the University of Notre Dame might be the right thing at the right time.
St. Joseph and another local Catholic school, Sacred Heart in Pinellas Park, are among five schools in the nation taking part in the Notre Dame ACE Academies, a pilot program in conjunction with the university's Alliance for Catholic Education that aims to strengthen Catholic schools and the communities they serve.
The idea is to boost enrollment and help schools develop better leadership, curriculum, instruction, financial management and marketing.
Catholic school enrollment has been on the decline for years. Recent statistics from the National Catholic Educational Association show there were more than 5.2 million students in almost 13,000 catholic schools in the early 1960s. Today, there are about 2 million students in 6,841 schools.
In Florida, Catholic school enrollment continues to drop, from 90,739 students in 2007-08 to 82,045 in 2011-12, according to the Florida Conference of Catholic Bishops in Tallahassee.
ACE Academies hopes to reverse the trend.
The Notre Dame program started two years ago in Tucson, Ariz., with three inner-city Catholic schools. Since then, enrollment has increased – by 50 percent at one school – and reading scores are significantly better, program leaders say.
ACE Academies brought in more books and summer reading programs, and reached out to Arizona corporations to contribute to tax credit scholarships that help low-income families with tuition.
The Tampa Bay area academies began in July.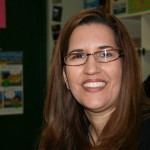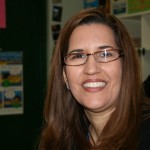 At St. Joseph, school staff went to Notre Dame in Indiana for a week to get hands-on training, said Brenda Budd, the first lay principal in the school's history.
ACE placed a curriculum specialist and advancement director at the school, as well as a young Catholic teacher, 22-year-old Brianna Hohman of Virginia Beach. Hohman is earning her master's degree from Notre Dame through a related postgraduate work-study program that combines academics with religious instruction.
She has 21 students in her second-grade class, where a rising crescendo of chatter is tamed by a simple, mindful phrase. "God sees you,'' Hohman tells them to get their attention. "God loves you,'' they answer.
Hohman attended Catholic school until the fifth grade, completing her secondary education at public schools.
"What I find interesting about Catholic schools is that … the main goal is to form moral, responsible and active Catholics, a goal that is incredibly real to me,'' Hohman says later. "Catholic schools focus on educating the whole person.''
Her assignment to the school is an opportunity to reignite the robust religious culture Catholic schools once embodied before there was a shortage of sisters, brothers and priests in the classroom. Of the 151,395 teachers working in Catholic schools today, only 5,023 are religious staff and clergy.
It's too soon to tell what impact this arrangement will have on St. Joseph, where Arias is the only remaining sister on staff. Even before the partnership began, enrollment was on the rise, Budd said, mainly due to tax credit scholarships.
In 2007-08, there were 191 students at St. Joseph. This year, there are 222. The number of students who use a tax credit scholarship also has grown, from 8 percent in 2007-08 to 41 percent this year.
The nonprofit Step Up For Students administers the scholarships. It also co-hosts this blog.
Of St. Joseph's 152 families, most are Hispanic, middle- to low-income and live outside the neighborhood, said Doris Agostina, an officer manager at the school with two grandchildren enrolled. At least 30 families don't speak English.
Hispanic families are a particular focus for the ACE Academies' efforts. In a redefinED interview earlier this year, program director Christian Dallavis noted that two-thirds of practicing Catholics in the United States who are under the age of 35 are Hispanic. At the same time, only about 50 percent of Hispanic students graduate from high school in four years.
"We see the future of the church is on pace to be kind of radically undereducated," Dallavis said in the interview. But "we also have a solution in that we know Catholic schools often put kids on a path to college in ways that they don't have other opportunities to do so."
St. Joseph teaches students from prekindergarten to eighth grade. Class sizes are about 25 students per teacher. The graduating class has 11 members.
Parents come for the academics and the religious focus, Budd said. Students learn the basics plus Spanish until the fifth grade, Italian in sixth grade and sign language in seventh grade. Then it's back to Spanish for eighth-graders.
Every student in grades three through eight takes a standardized assessment test every year. That includes tax credit scholarship recipients, who are required to do so by law. "How else are we going to be able to make sure we're doing our job and meeting student needs?'' Budd said.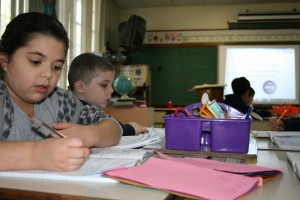 One of her future goals is to focus lessons for each student at one grade level higher by incorporating virtual education and blended learning opportunities. The idea: challenge students to give them an advantage as they progress toward high school, where many will continue their Catholic education.
St. Joseph is potentially fertile ground for Academy of the Holy Names, Jesuit and Tampa Catholic, all highly-regarded private schools in Tampa.
In addition to academics, St. Joseph students learn about the Catholic vestments and prepare for their first communion and confirmation. "They get a good education,'' Budd said, "but they also are learning about God every day.''