Louisiana: A district judge deems the state's voucher program unconstitutional because of the funding mechanism it uses to send public dollars to private schools (coverage roundup at redefinED). A federal judge rules the recent expansion of vouchers and charter schools in Lousiana conflicts with one school district's desegregation order (New Orleans Times Picayune).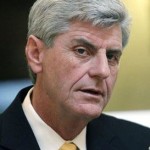 Mississippi: Gov. Phil Bryant is looking to expand school choice next year, announcing proposals last week for tax credit scholarships and more charter schools (Associated Press).
New Jersey: Students in New Jersey charter schools are outperforming their peers in traditional public schools, concludes a new Stanford study (Associated Press).
Tennessee: Key questions remain unanswered in a task force's voucher proposal, including the per-voucher value (The Tennessean). More from timesfreepress.com.
Florida: A failing Orange County charter school that paid its principal more than $500,000 as it was shutting down also paid her husband more than $460,000 during a five-year period (Orlando Sentinel).
California: Steve Barr, founder of the Green Dot charter school network, abruptly resigns from its board of directors (dailybreeze.com).
Maryland: Charter schools in Baltimore are set to undergo a thorough evaluation by the city (Baltimore Sun).
Arizona: A school district seeks to create its own charter school, wanting more flexibility for an expanded science curriculum (Yuma Sun).
Mississippi: Republican leadership removes a key Democratic lawmaker from an education committee, clearing the way for support of charter school legislation (WJTV).
Idaho: State lawmakers are likely to take another look next year at a proposal for tax credit scholarships (Associated Press).
Arizona: The state's charter school board is considering changes to charter procurement policies in the wake of a newspaper investigation (Arizona Republic).