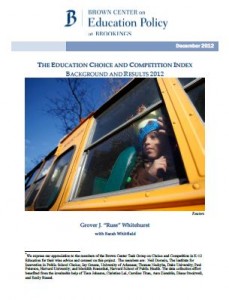 The Miami-Dade school districts ranks No. 10 among school districts nationwide in providing a wide array of school choice options for its students, according to a national report released today.
The Brookings Institution used its "Education Choice and Competition Index" to score more than 100 districts nationwide, using a complicated formula based on 13 categories. Among other factors, it  looked at whether alternatives were available, including magnet schools, charter schools, virtual courses, vouchers, tax credit scholarships and affordable private schools.
The Recovery School District in New Orleans came in at No. 1, and earned the report's only A grade. (Miami-Dade got a B-.) New York City, Washington D.C., Minneapolis and Houston rounded out the Top 5.
A number of Florida school districts rated relatively high, including Hillsborough and Pinellas (tied at No. 19) and Broward and Duval (tied at No. 22).
The No. 10 ranking for Miami-Dade, which just won the Broad Prize for student progress, shouldn't be a surprise in Florida. As we've noted before, the district offers a substantial number of options on its own, through magnets and career academies, and, among the state's biggest districts, has some of the highest rates of students attending charter schools and private schools via tax credit scholarships.
It also has a superintendent, Alberto Carvalho, who said this a few months ago: "We are now working in an educational environment that is driven by choice. I believe that is a good thing. We need to actually be engaged in that choice movement. So if you do not ride that wave, you will succumb to it."