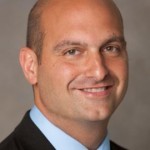 To appreciate the significance of what Nikolai Vitti is saying about parental choice, one must first read his resume. He's a 36-year-old with a Harvard education doctorate who served as chief academic officer to nationally recognized Miami-Dade school superintendent Alberto Carvalho before being chosen in the fall to run the Duval County school district, the 22nd largest in the nation.
So Vitti is, by anyone's definition, a comer on the national public education scene.
And he says this: "I support choice because I think parents need options, especially those that do not have the financial means to go to a private school."
And this: "I just don't believe that anyone should tell a parent where they should send their child to school. I'm vehemently opposed to limiting options, especially to parents whose children are in lower performing schools or parents who don't have the financial means to have the same flexibility that a parent would have of means. And that's historically what's happened with our public education system."
These statements, in an enlightening podcast posted to this blog on Monday, are all the more impressive given that the school district he now commands has an uneasy history with private school choice. The pressure on him to continue to wage high-profile war is certainly great. But Vitti comes from a place, and perhaps a generation, where choice is not a dirty word. He openly praises charter operators such as KIPP, even borrowing from some of their practices while in Miami, and asserts that competition is making school districts up their game. In one of his first meetings on the new job, he recommended, and the school board approved, 12 new charter schools.
Vitti, then, is owed more than a pat on the back. He is also trying to break through the political divide to encourage open-minded debate on how to make choice actually work. Toward that end, he brings legitimate concerns to the table and needs to be heard.
Though Florida is considered the national leader in parental choice, it still has one foot in the new world and one in the old. The state Constitution insists that each county school board "shall operate, control and supervise all free public schools within the school district," yet the Legislature continues to add what could be perceived as statutory exceptions to that rule – charters, tax credit scholarships, vouchers, virtual education.
Parents are never forced to attend choice schools, which means that, unlike zoned district schools, they can go out of business merely because no one chooses to attend. On the flip side, charter or voucher schools are not forced to fill beyond their capacity or serve students from a new apartment complex that suddenly opens just before the school year start.
In Florida, as in most states, the process by which a school district plans, designs and builds new schools is tightly governed. Districts must prove the need for more space through extensive documentation that analyzes needs over a five-year, 10-year and 20-year window, and must build these facilities to specifications that reach all the way down to the types of ducts, light fixtures, and grills on air conditioning vents. By comparison, a charter school can apply in one fall to be open the next fall – and operate inside almost any safe and viable commercial structure.
"All of this creates havoc in the daily operation of the district," says Vitti. "And all I'm saying is there's a way to create some balance so that these strains on the district don't create or exacerbate an already tense relationship between districts and charter schools."
That's an entirely reasonable assertion and a reminder that these kinds of policy debates too often devolve into shouting matches because of the way politics tends to polarize. Give credit to Vitti for trying to create a safe territory for honest reflection. Given that parents are demanding more choice and lawmakers are responding in kind, progressive young superintendents such as Vitti may be the ones to help navigate the road ahead.